Well, we are deep into a Fall armyworm infestation that may be 3-4 times, or more, worse than I have ever seen. Established control thresholds are 2-3 caterpillars per foot of row in newly emergent small grains and 3-4 caterpillars in established pastures, such as Bermuda or small grains fields. I am seeing 15-20 caterpillars per square foot in many places! Many of you have already sprayed, but do not rest easy thinking this is the last you will have to worry about them.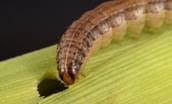 Depending on when we get our first frost, there could be one or two more generations of these pests before Mother Nature provides some relief. Our average first frost is November 10, and given how the law of averages works it could be two weeks earlier or two weeks later in a given year. One complete life cycle of the Fall armyworm takes 2-3 weeks, about 10-14 days as feeding caterpillar, 8-9 days in the pupal stage, and 1-3 days as egg-laying adult moths. Once new eggs are lain, new caterpillars hatch about 3 days later to begin the feeding cycle again. So, if our first frost occurs near the November 10th average date, we could see at least one and possibly two more cycles. If we have a late frost, we could see three more generations.

The decision to spray should be based on the cost of control versus the value of the forage in question. If the loss of the forage means a substantially increased reliance on feed and hay this winter or replanting small grains fields, then control is likely an economically feasible option. Beyond that, the choice of a control product labeled for Fall armyworm control is largely driven by the cost of application and availability.
There are a multitude of products commercially available for the control of Fall armyworms and, unfortunately, most of them will only have a 2 or 3-day window of residual activity. Many of the products have no grazing or haying restrictions, but some will have a 3 to 14-day grazing or haying restriction.
The salient point is that I would advise scouting fields at least every other day until we get a frost, and maybe invest in a HUGE flock of chickens (weak attempt at humor).
If you have questions regarding control strategies for Fall armyworms, feel free to contact me via phone (Carter County OSU Extension 580/223-6570; Jefferson County OSU Extension 580/228-2332) or email: Leland.mcdaniel@okstate.edu.