Well my friends, we are into June and the only hunting season that is open is Squirrel season! When I was growing up a lot of folks I know ate squirrel regularly. I had a beloved uncle, Clevie Goodrich, who put squirrel hunting nearly on the same level as quail hunting and he enthusiastically pursued both! If you haven't tried fried squirrel you are actually missing a treat. No, it doesn't taste like chicken!
   But, if you are not into bushytails and aren't willing to chase hogs this summer, then now is the premier time for fishing. And I'm here to tell you that the reports I'm getting show that it doesn't matter if you're on the lake, a stock pond, a creek or wherever there is water, the fishing is great. I have even seen some energetic young men pulling some nice fish from the ditches along side of the roads.
   When I was a youngster, this time of year was marked by my grandmother, Abbie Gaines, loading us up for a day of fishing. We would spend time digging worms and catching grasshoppers for bait, then loaded our equipment and heading to the North Pasture tank. Our equipment consisted of cane poles, bobbers and an assortment of hooks, not very sophisticated by today's standards. Babbie, as we called her, could spend hours watching a cork bob! Most of the fish we caught back then were mudcats and perch, but they were great fried up!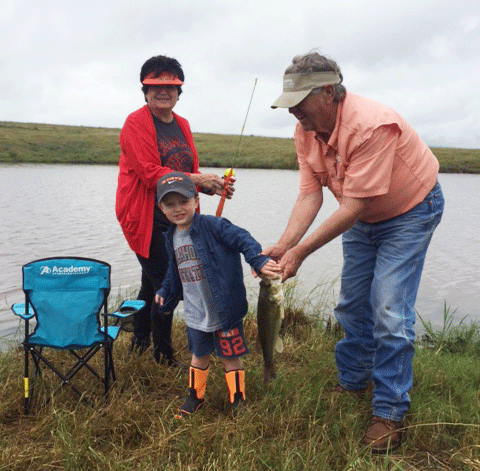 Things, and especially equipment, have changed a lot since those days but there is no better way to spend a warm summer morning than on your local pond!
    Stock ponds or tanks have been around for years and they have fed families and provided angling recreation ever since I can remember. You don't need a lot of money or a fancy boat to fish them. A lot of us were introduced to fishing on their banks, and some might wish to go back to those days when the sight of a bobber slipping under the water was all we needed to make us happy.
Farm ponds, stock tanks, watershed lakes, by whatever name – they're small waters that are easy to learn and on which we can hone our skills.
"Farm ponds come anywhere from a half acre to thirty acres, but I've always thought that fifteen acres or more leans toward a lake," says Bill Dance, television fishing icon, avid pond fisherman and lake designer. Some farm ponds are constructed in gullies or valleys, some are impounded and some are just round dish-type holes in the ground.
Most ponds have a dam of some sort. Many have off-color water, sometimes even muddy. Ponds can provide good fishing for bass, bluegills and catfish. Don't expect crappies in small bodies of water, though—the species is so prolific that crappie populations occupy too much of the available water space. In fact, most game and fish departments won't even consider stocking crappies unless the body of water is at least 50 acres in size.
A small pond is a miniature version of a big lake: Fish do basically the same things in each body of water. They relate to key structural features that are available. They're affected by water temperature and by water clarity just as their big-water cousins are. Anglers should look for them near the same sorts of cover and structure, and fish for them accordingly.
    If fishing for bluegills/sunfish, keep as many of the sunfish you catch as the law allows; you'll have the makings for a great fish fry regardless of the size of the fish, and you'll be doing the pond fishery a favor. A pond's sunfish population can get out of control in a hurry. A number of female bluegills might all spawn with one male, so breeding success each year is high. Removing stunted sunfish will increase the average size of the survivors within a few summers.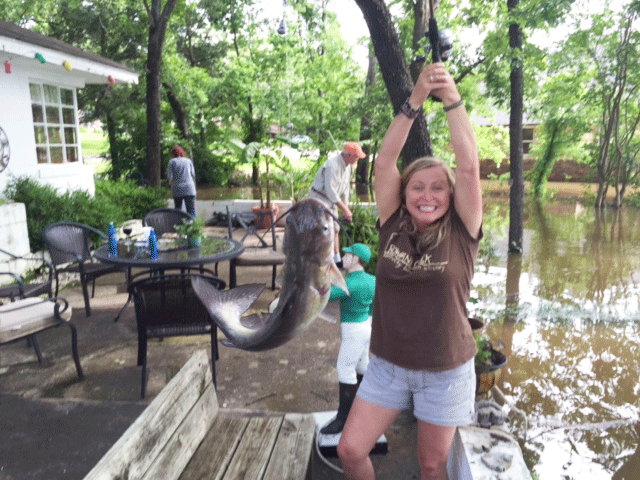 Catfish, whether bullheads or channel, tend to prowl close to the banks during low-light periods. Look for most to stay in the deepest portion of the pond or around drop-offs near currents during warm weather and the brightest part of the day.
   Fish earthworms or scented baits under a float, with the bait positioned near the bottom. If the water is too deep to use a clip-on or pegged float, use a slip bobber. Otherwise, try tight lining, by sliding a small barrel sinker on the line, tie on a small barrel swivel followed by 16—20 inches of monofilament, and then add the bait hook.
    Nowadays a lot of farm ponds are stocked with channel catfish, which do well in small waters with minimum current. If channel catfish are present, fish for them at low-light times with in-line spinners, such as those made by Mepps and Blue Fox. Channel catfish in farm ponds are especially predatory in early to midsummer, when the fins of nearly spawned bass and sunfish are still in the"soft-ray" stage of development. 
   Regardless of which type of fishing you prefer, your local body of water has a lot to offer. Get out and enjoy fishing in your Oklahoma and call and let me know when the "fish fry" is on!