4-H Enrollment – for year 2018-2019 Open began September 1
September 1 began the 4-H enrollment year 2018-2019. Families are encouraged to enroll online. Go to ok.4honline.com to update your family profile page. If you are re-enrolling from last year, DO NOT CREATE A NEW PROFILE. If you have not been previously enrolled online, you will need to create your family profile page. If you need assistance, call us at 580-228-2332. If you wish, you may use one of our computers here in the office.
4-H members must be active a minimum of 90 days before they can show in the spring Livestock Show.
Volunteers also need to re-enroll and check the box for volunteer verification to have a background check conducted. This will not cost you. If you have difficulties contact our office for assistance.
CLOVER BOWL TRIVIA QUESTION: In what year was the National 4-H Center in Chevy Chase, Maryland, established?
Answer: 1959
Tara Brown, Jefferson County OSU Extension Educator, Family & Consumer Sciences/4-H Youth Development has had the fun opportunity to participate in the Ringling Elementary and Middle School BDAT. Thursday, October 4 the younger group (K-2) were given a paper pumpkin to color and write down what they learned about pumpkins. For example: Pumpkins in the field by be White, Green, Yellow, Red or Orange. The students knew some of the uses of pumpkin – pumpkin pie, roasted pumpkin seeds, and of course the Jack O' lantern! This is a very excited and eager group of students! Some know the 4-H pledge and what each H stands for – others are trying to learn.
Group 3rd – 8th grade students learned a little more about 4-H and a special event to be held Saturday, December 15 – Jefferson County 4-H Share-the-Fun!
Those participating must be actively enrolled in 4-H. If you need assistance enrolling your child online at ok.4honline.com please call 580-228-2332 and we will assist you!
The students also learned some about rockets. We pretended there was a group of students stranded on an island and needed water and food. The question was "how do we get food and water to them? It's too dangerous for a boat to go to the island.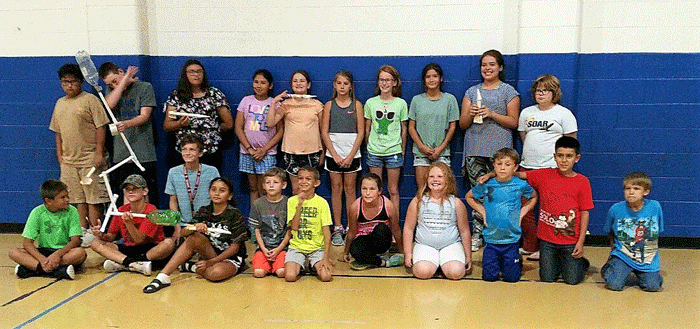 The students worked in teams to build their "rocket"; they had to determine what size nose-cone to put on as well as number of fins and where to place them with limited available supplies. After a short period of time, it was time to "launch" their rockets to determine which team's rocket went the highest; which went the farthest and which one was closest to the target.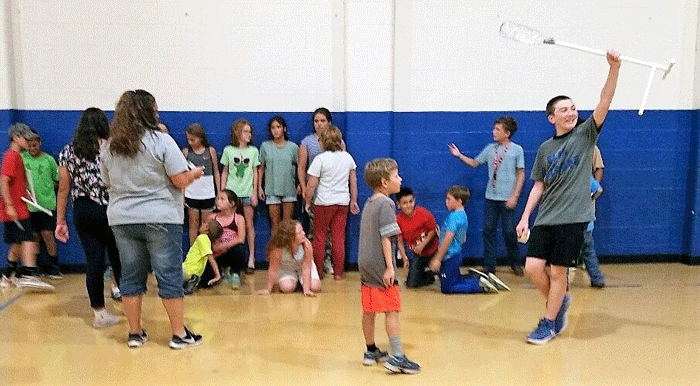 The Launch Pads' rocket flew the highest (30 ft.) and farthest (51ft.) The Rocket Builders' rocket landed closest to the middle of the target. Other crews included: Blue Crew; The Rockets and The Blue Bloods. The students discussed why they thought one rocket flew farther while another landed closest to the target; many possibilities included the size of the launch pad; how it was angled; number and placement of the fins and how they were attached. The students seemed to really enjoy this activity!
Plans for a near future will include making Pumpkin Pie in a Bag which will include team work, measuring, mixing and tasting!
Have a good week and don't forget to enroll in 4-H online to be able to participate in the 4-H Share-the-Fun and to show in the Spring Jr. Livestock show.