The Ryan Cowboys spotted Maysville 38 straight points and could never recover in dropping a 54-6 verdict to the Warriors in a game that ended at the half.
The contest was delayed twice by lightening, but the Cowboys were never really in the game that was played in rainy and miserable conditions.
The two delays totaled about two hours in length.
The Cowboys will try to get back on track tomorrow night (Friday) as they will play host to the Caddo Bruins in a homecoming contest. Kickoff is set for 7:30 p.m. at the Bob Givens Sports Complex.
The Bruins will bring a 1-2 record to Ryan. Caddo lost its season-opener to Wilson, 58-16 and then fell to Dewar, 54-6. Last week the Bruins picked up their only win of the season with a 34-6 victory over Thackervile.
The game was barely underway when the first weather delay occurred and the Cowboys trailed only, 8-0.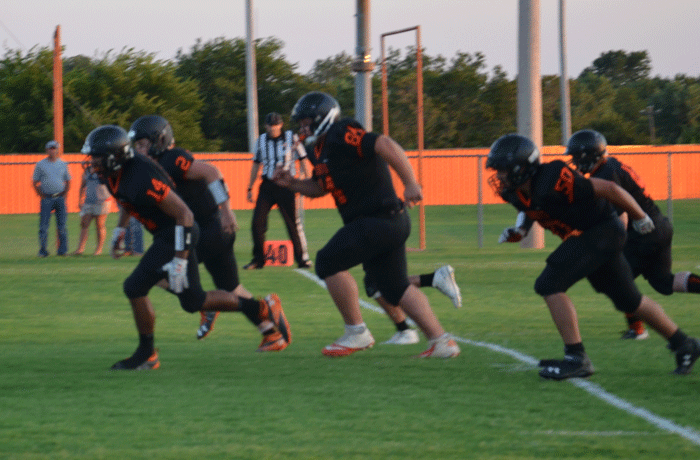 But when play resumed, the Warriors got another score before the end of the quarter to up the lead to 16-0.
Early in the second quarter the Warriors increased the lead to 24-0.
From that point in the game it became the Gunner Aprill show for the Warriors as the talented quarterback scored four straight times for the Warriors.
The Cowboys got on the board late in the second quarter after a second weather delay and sandwiched between Aprill's four touchdowns. Grayson Tomberlin broke loose for a 55-yard run which cut the Maysville lead to 36-6.
Aprill got the third and fourth of his scores to close out the scoring for Maysville. His third TD of the night came on a two-yard run.
On the ensuing kickoff, the Warriors executed an onside kick and just one play later Aprill scooted 40 yards to seal the mercy-rule victory for the Warriors.
Tomberlin led the Cowboys in rushing with 70 yards on eight carries, but the Warriors held the Ryan offense in check most of the night.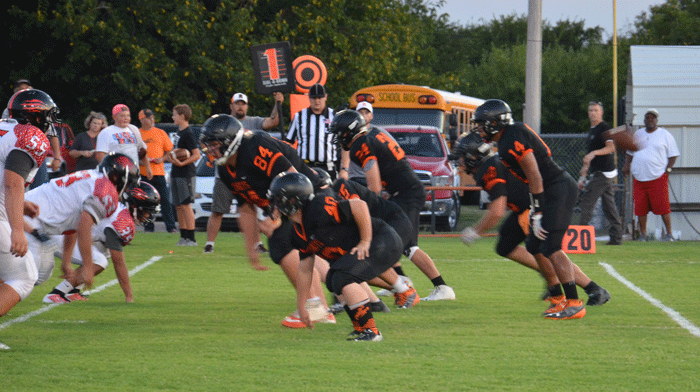 Aprill finished the night with 125 yards on nine carries for the Warriors while Gunner Chambers added 101 yards on just six carries. The Warriors rolled up 322 yards on just 22 carries in the shortened contest.
Tomberlin led the defensive effort for the Cowboys with five tackles.
RYAN RAMBLINGS: Despite the loss the Cowboys hold a 4-3 lead in the series with Maysville….The 54 points scored by the Warriors is the most ever against the Cowboys….The combined total of 60 points by the two teams is the most in the seven-game series with the Warriors…Maysville is unranked in the Class C poll in The Daily Oklahoman, but is ranked sixth in the latest okprep.com poll…
SCORE BY QUARTERS
Ryan 0 6 x x—6
Maysville 16 36 x x—52
FIRST QUARTER
MAYSVILLE – Gunner Chambers 5 run (Aprill run)
SECOND QUARTER
MAYSVILLE – Chambers 25 run (Ty Wilmot run)
MAYSVILLE – Aprill 4 run (run failed)
MAYSVILLE – Aprill 52 run (McCallister run)
RYAN – Grayson Tomberlin 55 run (run failed)
MAYSVILLE – Aprill 2 run (Wilmot run)
MAYSVILLE – Aprill 40 run (Wilmot run)