It was a struggle, but the Waurika Eagles flew past Wilson in the second half and scored a 62-34 victory at Cy Sloan Stadium last Friday night.
It was a tight game at the halftime break as Waurika led, 28-20, but after Wilson tied the game early in the third quarter, Waurika came alive with four scores to put the game away.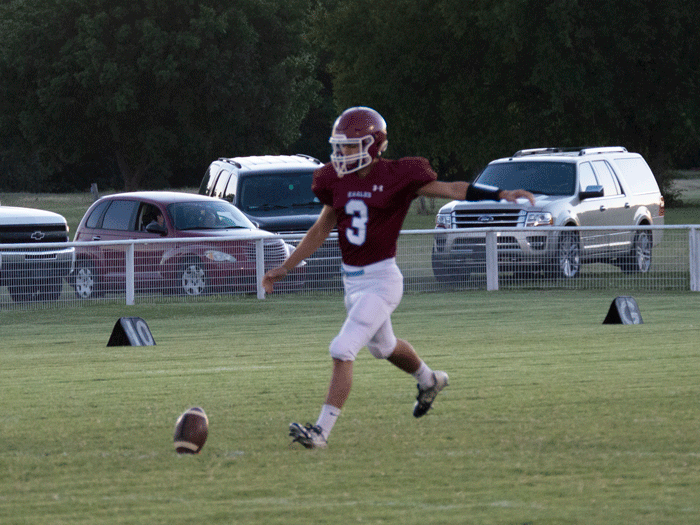 The Eagles travel down U.S. 81 Friday night to take on the Ryan Cowboys in a District B-4 matchup. Kickoff is slated for 7:30 p.m.
Wilson got on the board first after a Waurika interception gave Wilson the ball at their own six. On the third play from the Waurika three, Logan Schaaf's pass was tipped and landed in the hands of Shane Honea who raced to the end zone for a 97-yard touchdown pass. Schaaf found Caylen Fulton for the two-point conversion giving Wilson an 8-0 lead with 7:12 to play in the first quarter.
Waurika answered on their next possession with a 63-yard drive on six plays. The big play of the drive was a 45-yard scamper by Kevin Garcia to the Wilson 15. Four plays later Garcia scored from one yard out and the lead was trimmed to 8-6 with 5:16 remaining in the first quarter.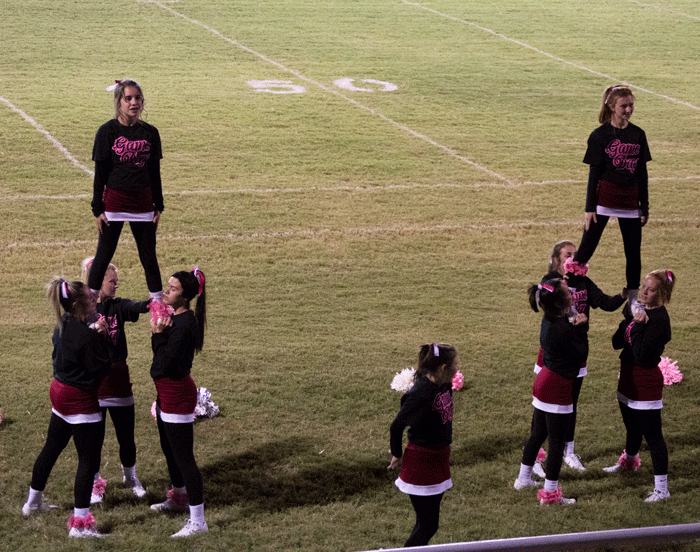 Honea fielded the ensuing kickoff and raced 82 yards for the score. The two-point conversion failed, but the Carter County Eagles had increased the lead to 14-6 with 5:01 left in the first quarter.
Waurika came back to tie the score on a seven-play, 55-yard drive. Turner Mora picked up the touchdown was a 22-yard run. Trent Arellano picked up the two-point conversion on a tough run around the left side to knot the score at 14 with 2:35 remaining in the first period.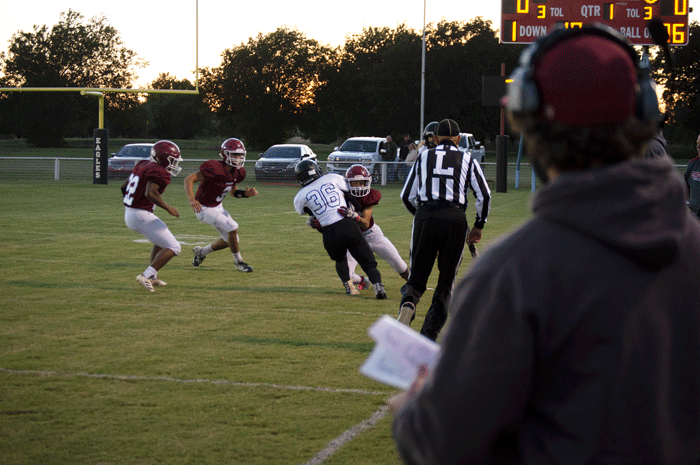 Wilson began another scoring drive that carried into the second quarter. Schaff capped the drive with a one-yard plunge giving the lead back to Wilson at 20-14 with 10:26 left before the half.
Waurika had another answer, however, as they drove from their own 43. Mora found Hunter Wesberry wide open in the end zone and connected on a 24-yard touchdown pass to put draw Waurika even with Wilson at 20-20 with 8:45 left before the half.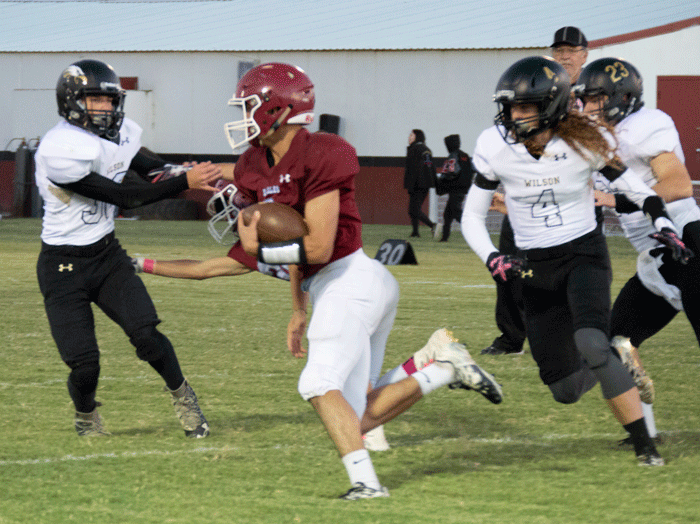 After turning back another Wilson drive, Waurika took possession at the Waurika 25. Working against the clock Waurika marched down the field and competed the scoring drive when Mora hit Payton Fletcher with a touchdown pass over the middle. Mora ran for the two points and with just 16 ticks showing on the clock Waurika had gained the lead for the first time.
The two teams exchanged turnovers to open the third quarter and after Waurika recovered the Wilson fumble, Garcia scored from two yards out. After Mora ran for the two points, Waurika upped the lead to 36-20 with 10:12 to play in the third quarter.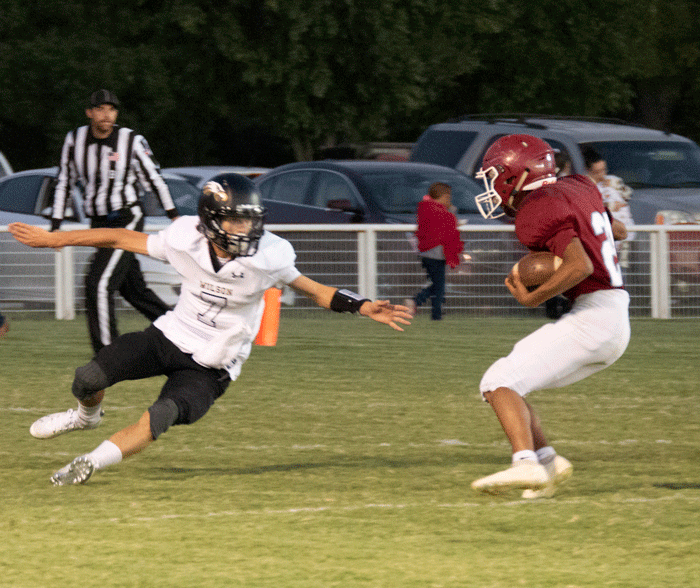 Wilson refused to die as they took the ensuing kickoff and drove 63 yards on just two plays. The big play was a 54-yard pass from Schaaf to Honea score the touchdown. Schaaf ran for the two-point conversion to narrow the gap to 36-28 with 8:12 left in the third period.
This is the point in the game Waurika took control. Mora had two-long distance scoring runs – a 40-yarder the completed a 63-yard drive and a 74-yard scamper that capped a 97-yard drive. The scores extended the lead for Waurika to 48-28.
Garcia got the next score for Waurika with a five-yard run with 11:22 left in the game giving Waurika a comfortable 54-28 advantage.
Waurika scored again after a Wilson punt and this time a 52-yard drive in three plays ended when Garcia caught a 12-yard pass from Mora for the touchdown. Mora ran for the two-point conversion and Waurika was in front, 62-28, with 8:28 left in the game.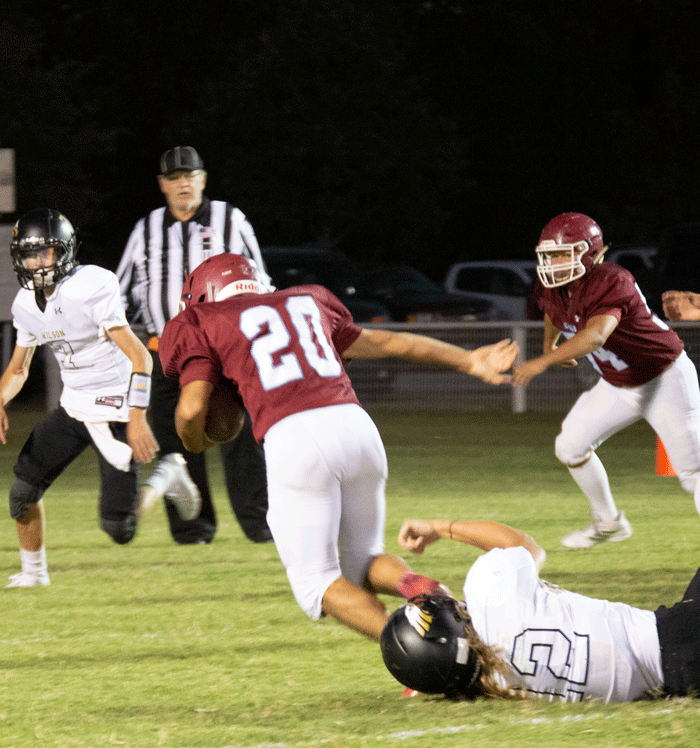 Wilson got its final score of the night on a 50-yard drive that ended when Honea caught a 27-yard scoring pass from Schaaf. The try for two was batted down by Jordan Watkins to set the final margin.
Waurika rolled up 611 yards of total offense with Mora picking up over half of that on the ground. The talented senior quarterback finished with 27 carries for 319 yards. Garcia also topped the 100-yard mark with 137 yards on just 13 carries.
The Waurika defense was impressive against the run as Wilson picked up only 104 yards on 33 totes, but Wilson struck for 254 yards in the air.
EAGLE FLIGHTS: Waurika now leads this series, 52-20-3, with the first game being played in 1921….The 96 points scored by both teams is the most points by the two teams in a game in the series….The 62 points scored by Waurika is the most ever scored against Wilson….Wilson's 34 points ties for the fourth most points scored against Waurika which was also done in 1956….The 34 points scored by Wilson is also the most points scored in a loss in this series….Mora moved over the 1,000-yard mark in rushing yards in this game as he now has 1,067 yards rushing….This was the third game of the season that Mora rushed for more than 200 yards.
 Game in Figures
                                    WIL.           WAUR.
First Downs 14 30
Yards Rushing 33-104 49-501
Yards Passing 254 110
Passes 11-16 10-14
Passes Int. By 1 0
Fumbles, Lost 4-3 1-1
Punts 1-25 0-0
Penalties 5-28 2-20
                  SCORE BY QUARTERS
Wilson 14 6 8 6–34
Waurika 14 14 20 14-62
WILSON – Shane Honea 97 pass from Logan Schaaf (Caylen Fulton pass from Schaaf), 7:12, 1st Quarter
WAURIKA – Kevin Garcia 1 run (run failed), 5:16, 1st Quarter
WILSON – Honea 82 kickoff return (pass failed), 5:01, 1st Quarter
WAURIKA – Turner Mora 22 run (K. Garcia run), 2:35, 1st Quarter
WILSON – Schaaf 1 run (Honea pass from Schaff), 10:26, 2nd Quarter
WAURIKA – Hunter Wesberry 24 pass from Mora (run failed), 8:45, 2nd Quarter
WAURIKA – Payton Fletcher 4 pass from Mora (Mora run), :16, 2nd Quarter
WAURIKA – Garcia 2 run (Mora run), 9:36, 3rd Quarter
WILSON – Honea 54 pass from Schaaf (Schaaf run), 9:12, 3rd Quarter
WAURIKA – Mora 40 run (run failed), 8:12, 3rd Quarter
WAURIKA – Mora 74 run (run failed), :26, 3rd Quarter
WAURIKA – Garcia 5 run (run failed), 11:22, 4th Quarter
WAURIKA – Garcia 12 pass from Mora (Mora run), 8:28, 4th Quarter
WILSON – Honea 27 pass from Schaaf (pass failed), 4:07, 4th Quarter
                  INDIVIDUAL STATISTICS
Waurika: Rushing – Turner Mora 27-319, Kevin Garcia 13-137, Octavio Gomez 2-21, Gabe Jenkins 4-12, Trent Arellano 2-10, Treyton Torrez 1-2; Passing – Mora 10-14-110-1; Receiving – Hunter Wesberry 3-80, K. Garcia 3-23, Payton Fletcher 1-4, Gabe Jenkins 1-3. Wilson: Rushing – Logan Schaaf 17-60, Shane Hones 4-33, Hayden Mantooth 99-24, Hunter Wyatt 1- -7, Team 1- -6; Passing – Schaaf 11-16-254-0; Receving – Shane Honea 8-219, Tommy Right 1-21, Caylen Fulton 1-9, Mantooth 1-5.