By and large, the 2019 hay crop is, as they say, "in the barn." Meeting the supplemental protein needs for the cows and replacement heifers consuming that forage must be done properly and economically. Protein is a vital nutrient for the ruminant because protein is necessary for the multiplication of, and the feed digestion by the microbes in the rumen. The microbial population in the rumen of cows is largely responsible for digesting cellulose in standing or harvested forages.
Higher quality forages are more readily digested in the rumen and have higher rate of passage through the digestive tract of the cow than do lower quality roughages. Therefore, the cow can consume more of the high-quality forage on a daily basis and receives more total digestible nutrients (TDN) from each pound of feed consumed. If adequate protein is available to cows consuming lower quality roughages, then the rate of passage and the digestibility is improved compared to cows that are inadequately supplemented while consuming the same low-quality forage.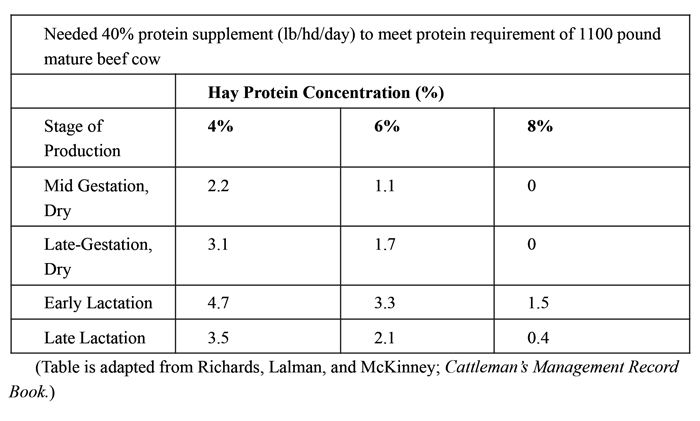 Producers may be surprised to know the large differences in protein supplement needed to meet the cow's requirement depending on the quality of forage that makes up most of the diet. Below is a table of the pounds of 40% protein supplement needed daily for moderate-sized (1100 pound) beef cows in different stages of production and consuming differing quality of grass hays. Larger cows and cows that produce above average milk production will consume more forage and need even more supplement to match their requirements. The table above describes the protein-only needs of the beef cow. Energy deficiency may occur and result in some weight and body condition loss. Energy needs will be increased if cows are already in thin body condition and must be improved before calving next spring. Also, winter weather conditions can greatly increase energy needs. In many instances, the energy requirements can be met with lower protein supplements (for example 20% protein range supplements) fed at about twice the rate as noted in the table above.
Forage quality differences are important, whether the supplement choice is high protein (40%) or lower protein (20% protein). Learn about testing hay for protein content by visiting with your OSU County Extension Office or downloading Oklahoma Cooperative Extension Fact Sheet PSS- 2589 Collecting Forage Samples for Analysis.
Follow me on Facebook @ https://www.facebook.com/leland.mcdaniel
Oklahoma State University, in compliance with Title VI and VII of the Civil Rights Act of 1964, Executive Order 11246 as amended, and Title IX of the Education Amendments of 1972 (Higher Education Act), the Americans with Disabilities Act of 1990, and other federal and state laws and regulations, does not discriminate on the basis of race, color, national origin, genetic information, sex, age, sexual orientation, gender identity, religion, disability, or status as a veteran, in any of its policies, practices or procedures. This provision includes, but is not limited to admissions, employment, financial aid, and educational services. The Director of Equal Opportunity, 408 Whitehurst, OSU, Stillwater, OK 74078-1035; Phone 405-744-5371; email: eeo@okstate.edu has been designated to handle inquiries regarding non-discrimination policies. Any person who believes that discriminatory practices have been engaged in based on gender may discuss his or her concerns and file informal or formal complaints of possible violations of Title IX with OSU's Title IX Coordinator 405-744-9154.