Oooooh, what is that smell? Mercy, it's making my coffee taste bad, roll down the windows please! Living in southern Oklahoma we all know what it is and this time of year it is really bad! It's one of those cute little black and white striped furry creatures we see flattened on the road. Sadly enough they have given their lives in the name of "love!"
You see, this time of year is when skunks start their mating season. Their minds are definitely on something other than watching the road.
Even with their potent defense, there are predators who can attack swiftly enough to carry off a young skunk before a mother can spray. Great Horned Owls strike from above and without warning. Other predators include coyotes and domestic dogs. However, the main threats to skunks have been human, who either killed them casually or out of fear. Also there are a large number of skunks that are run over by automobiles.
Striped Skunks are the chief carrier of rabies in the US, especially in the Midwest. At one time Striped skunks were hunted and trapped for their fine and silky fur.
The mountain men of the early fur trade wore fur caps they made from the entire skin of a striped skunk. In those days with infrequent baths and questionable hygiene, the caps may have introduced the first use of musk cologne!
There are several types of skunks commonly found throughout the United States, including the striped skunk, spotted skunk, hog-nosed skunk, and hooded skunk. They all have slightly different appearances and habits but also share may commonalities. For example, most adults grow to be about the size of a house cat or small dog. Some of the North American species have specialized diets but most are omnivorous and eat what is readily available, like grubs, plants, small animals, and even garbage. Finally, skunks all use a foul smelling spray to keep predators at bay.
Striped Skunks are the most common throughout North America and can be found from Northern Mexico to the Northwestern Territories of Canada. Their distinctive markings are used to identify them. Striped skunks have white stripes running from the tops of their heads to the tips of their tails.
Spotted Skunks are most often encountered in the Eastern U.S. where they live in woodlands and prairies. They keep a diet of field animals, insects, wild plants, and farm crops. Despite their name, spotted skunks are not actually speckled. Instead, their black fur displays swirls of white stripes.
Hog-nosed skunks are typically found in the Southwest. They are easily identified by their stark white tails and the large, solid white stripe that runs down the length of their backs. These skunks also have relatively large noses that they use to root through the soil for food.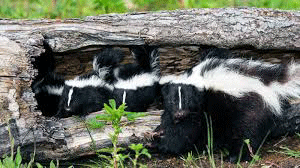 Hooded skunks are desert-dwelling mammals that primarily feed on insects. They are somewhat similar in appearance to striped skunks, but have longer tails and thick patches of fur around their necks. Some kinds of hooded skunks have two thin white stripes running down their backs and tails, while others have single, thick stripes and solid white tails.
Getting rid of skunks in an area first requires identifying the creature. Skunks are usually hard to miss, especially with the black and white striped body, bushy tail and scampering gait. If you encounter a skunk, pay close attention to whether it stomps its feet as this is a pre-spraying warning sign. Skunks start to move around in the springtime when temperatures get warmer and they begin their search for a mate and food. Since skunks can accurately spray between 10 to 15 feet, it's important to move as far away as possible as they may assume you pose a threat. Getting rid of skunks can be challenging.
Skunks can be a pest, however, they do help control insects and other pests around your home.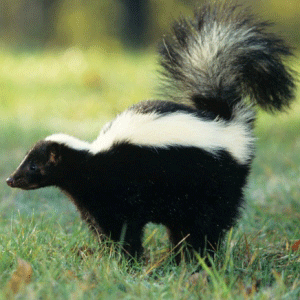 Growing up I remember the smell and horror experienced when a skunk got under your house, boy that was pleasant! They would manage to get into the crawl space in the foundation. Of course the best defense was to make sure these were areas were covered with screen or something to keep them out. If they did manage to get under the house it took a few days for breakfast to taste normal again!
The best advice is to admire them from afar! It's time to get ready for fishing, get out and enjoy your Oklahoma!