Hope you had a great "4th of July" holiday and had a chance to celebrate the founding of our great nation! In doing so I also hope you had a chance to get on the water and enjoy a little fishing.
While out casting on your favorite body of water catching bass, crappie, catfish or whatever your quarry is, hopefully you didn't encounter any snakeheads! What is a snakehead you ask? Well, I'm going to tell you more than you probably wanted to know about them.
Snakeheads (Family Channidae) are native to Africa and southern Asia. About 28 species have been identified. Equipped with a lung-like organ, these fish can gulp air and survive in waters with low dissolved oxygen levels. They can also live out of water for several days if they are kept moist. All snakeheads are aggressive predators and may eliminate other fish in waters they invade. They have even been known to bite humans who got too close to a guarded nest. The northern snakehead (Channa argus) is fairly cold tolerant, and could probably survive winters in many parts of the United States. This species also has the ability to cross land by wriggling or "walking" on its pectoral fins. Snakeheads have been imported to North America for the aquarium trade, and at one time were sold live in Asian-style fish markets. It's thought that in some instances some of these live fish were released in waterways to reproduce as they are a sought after food source in Asia.

That was prior to the Snakehead being added to the list of injurious wildlife under the Lacey Act in October 2002, which banned import and interstate transport without a permit from the U.S. Fish and Wildlife Service. Snakeheads were sold in pet stores and in live food fish markets and some restaurants in several major U.S. cities, including Boston, New York, and St. Louis. Live specimens have been confiscated by authorities in Alabama, California, Florida, Texas, Virginia, and Washington where possession of live snakeheads is illegal. Some snakeheads living in natural waters of the U.S. may have been released by aquarium hobbyists or those hoping to establish a local food resource. Also, some cultures practice "prayer animal release", a faith-based activity in which individuals purchase, then release, an animal (fish, amphibian, reptile, or bird) to earn merits with a deity.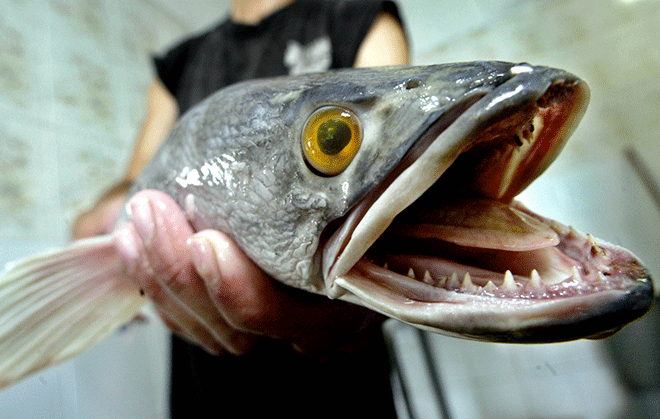 Snakeheads are a freshwater fish with little, if any, tolerance for saltwater. Within their native and introduced ranges, they live in small and large streams, canals, rivers, ponds, reservoirs, and lakes. Many species can tolerate a wide range of pH, and one species living in Malaysia and parts of Indonesia prefers highly acid waters (pH 2.8-3.8). The northern snakehead and several other species prefer to live in somewhat dense aquatic vegetation where they feed and reproduce. Northern snakehead may tolerate a wide range of water temperatures and environmental conditions which contributes to their success as an invasive species.
During all stages of their life, snakeheads compete with native species for food and habitat. A major concern is that snakeheads may out-compete and eventually displace important native or other established predatory fish that share the same habitat. As adults, snakeheads can be voracious predators. Should snakeheads become established in North American ecosystems, their predatory behavior could also drastically disrupt food chain and ecological conditions, thus forever changing native aquatic systems by modifying the array of native species. This could be disastrous!

In the summer of 2002 and again in late spring 2004, Channa argus, the northern snakehead, generated national media attention when anglers caught these fish in a pond in Maryland and, more recently, in the Potomac River in Maryland and Virginia. Fisheries scientists consider snakeheads to be invasive species because they have the potential to threaten native fish, the recreational fishing industry, and aquatic ecosystems.
A mature northern snakehead female can carry as many as 50,000 eggs, although some will not develop and others will be eaten by insects and small fish following fertilization. Depending on water temperature, eggs can hatch in about 24-48 hours. The fish also can spawn several times a year.
Snakeheads are easy to identify with their large mouth-full of sharp teeth, a mottled appearance much like a snake and a dorsal fin that runs back to their tail. They have a slight resemblance to the native bowfin common in our southern states but they are not related.
Hopefully you never run into these creatures but you can search YouTube and pull up videos of people fishing for snakehead fish in the northeast.
But for now you don't have to worry about swimming in Lake Waurika. Get out and enjoy our Oklahoma.