By the time you read this, I am sure that most of you know, we lost a true icon of our little town of Waurika.
   Mary Ruth Brown (or MRB as Brad Scott called her) passed away peacefully in her home Sunday afternoon surrounded by family. She had such a profound impact on the youth in our area, always helping and offering support and encouragement. She sometimes dished out some iron-willed advice, not only to Dick, Pat and I, but also to many others as they grew up in our little town of Waurika.  There were many others but to name a few, you would certainly have to include, along with the Gaines boys, Steve Snider, Phil Scott, Hank Bradley, Robert Beavers and Jimmy Biffle. I am sure many would certainly add their names to this list!
    Growing up, Mary Ruth or "Poo-Tye" as we called her back then, (I have no idea where that came from), taught us how to catch crawdads, fish, shoot doves and the occasional plover and offered tips on riding calves. To say she grew up a tom boy is an understatement, she probably could beat most of them.
   As we grieve along with her daughter Toby Ann Walker and brothers Rusty and Chuck Brown and her many grandchildren and great grandchildren and of course her many friends in our hometown, we can rest assured that she, George, Margaret Bradley, Jerry and Thyriza Shelton, Toby and Bettye Gaines, Don and Vella Howard and others are having quite a party in Heaven!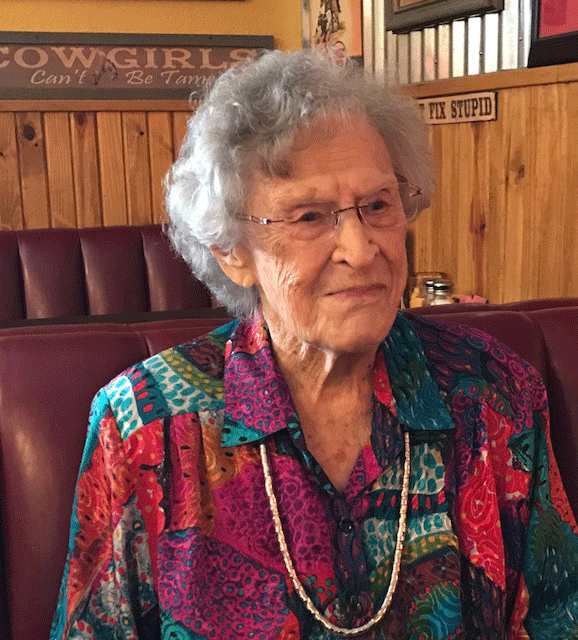 I remember the summer I was working at Woods Elevator, while sitting out on the loading dock, having a coke during a break, a green and white car whipped in the parking lot and sped toward the elevator honking its horn in a cloud of dust! 
   It skidded to a stop and Mary Ruth stepped out, tossed me the keys and said "I hope you like your car!" Needless to say I did! A green '55 Chevy with a white top. Wow! My Dad had decided I didn't need a car but Mary Ruth decided otherwise!
   What follows is a story of Mary Ruth's life that she helped me write for the Smithsonian opening, I hope you enjoy it.  Mary Ruth Gaines Brown
   Mary Ruth Brown was born on December 8, 1920 in Waurika Oklahoma, to Laster and Abbie Gaines of the Claypool Community. She was the only daughter and had an older brother Laster Gaines Jr (Toby). She attended school at Claypool Consolidated School District No. 52 where she graduated in 1938.
   Upon graduation she attended Brantley Draughton Business College in Ft. Worth, TX. After completion she returned to Waurika to a job at the local tag agency. Shortly after, she got a job at Walters, OK at Farm Security Administration, which was civil service and is now the Farmers Home Administration.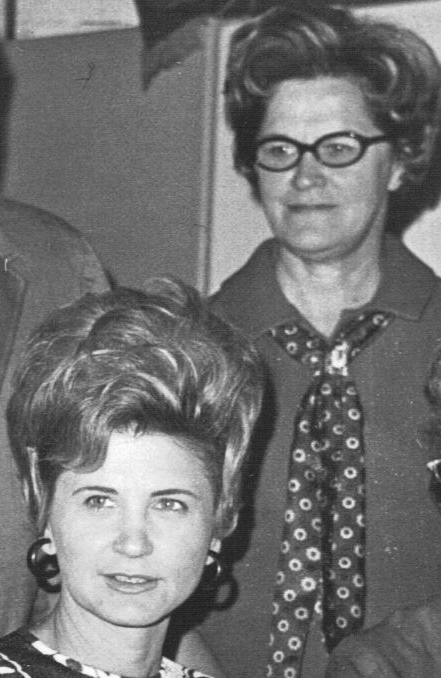 In December 1941 she moved to Duncan where she went to work at Oklahoma National Bank. 
   She was married to George Brown in August 1944, and moved to Altus Air Force Base where George was stationed as a Air Force pilot.
    After George's discharge he enrolled college at Oklahoma A&M and transferred to Oklahoma University the following year where he graduated in 1951.
    They moved back to Waurika and purchased Denny Drug in April 1951. Upon purchasing it they changed the name to Brown Drug, where it stood until 1984, on the corner of Main and Broadway.
      Mary Ruth's youth was spent as any rancher's daughter of that time would be, working hard and enjoying a rural life that in this day and age is lost to many. It is thought by many that she was much tougher than her older brother and most of the other kids in that area. She could ride with the best of them and stood out when it came time to ride calves, hoping her dad didn't find out they were doing it! In 1932 she won the Jr Calf Riding Championship by beating eleven boys her age! Her cousins Glen and Ray Keith Gaines said they wouldn't let her play basketball because they were afraid she would hurt the boys!
    In 1973 she was elected as President of the Waurika Chamber of Commerce and was the first woman elected to that post in the state of Oklahoma.
   She retired from the Jefferson County Election Board at the age of 85.
    As her nephew I can attest that her accomplishments pale to the kind acts that she gave the many youth of this area. She certainly taught us Gaines boys the art of crawdad fishing at an early age!
   We love you M R!