J.J. Jones, OSU Extension Area Ag Economist, offered the following article in the latest edition of the OSU S.E. Area News & Notes newsletter.
It has been an age-old debate. Is it better to raise your replacement heifers or purchase them? The question brings a lot of opinions and arguments. There are both advantages and disadvantages for each. Producers must consider each of them before making their decision.
The first table below outlines some of the main advantages and disadvantages of raising versus buying replacement heifers. Some of these points will be more important than others for different producers. For example, the only advantage listed for raising replacements is that the producer knows the genetics of their heifers. This could be important for producers that have spent considerable effort in selecting for specific traits and attributes. But for a producer that has not been managing for specific genetic traits and has a common set of commercial cows this might not be as important.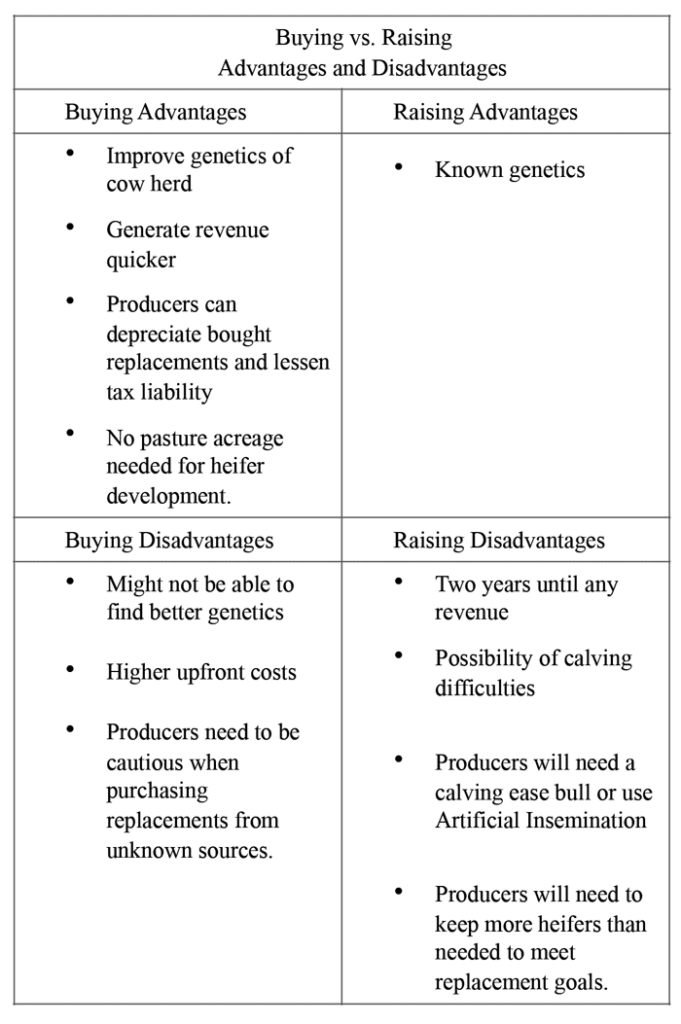 Producers need to determine what is the most important for them and their operation and make the decision based on that criteria. For most producers, one of the more important criteria is cost. What is the cost of raising replacements versus buying them? The remainder of this article will focus on that very question.
The second table compares the costs associated with buying a 4-5 month bred cow and raising a heifer until her first calf is sold. It is assumed that the purchased cow will have two calves in the same time that it takes a weaned heifer to be bred, calve and wean that calf.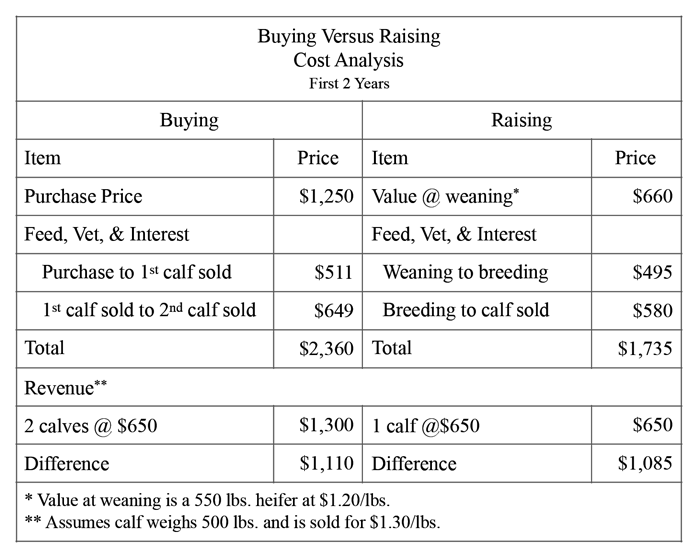 When comparing the returns and costs for the first two years of buying versus raising it shows that there is a slight cost advantage to raising replacements over buying them. Although, the results are close enough that one might consider it to be a wash. Keep in mind that no consideration was given to the possibility of calving difficulties, quality of first-born calf, poor breeding percentage, or poor growth rate. Everything is kept equal so just to consider the costs.
So, with the costs being about equal producers must consider the other ramifications of buying versus selling. Producers must consider their operations resources. Not only land availability, but also time availability and management. Producers need to consider the long-term effects on the operation's cash flow from holding onto heifers instead of selling them. Can an operation withstand the decrease in revenue and be able to wait two years for the payoff? Producers will need to determine if they could improve the quality and production of their herd faster by purchasing replacements versus raising them from existing stock.
Follow me on Facebook @ https://www.facebook.com/leland.mcdaniel
Find out what is happening in OSU Extension at https://calendar.okstate.edu/oces/ 
Oklahoma State University, in compliance with Title VI and VII of the Civil Rights Act of 1964, Executive Order 11246 as amended, and Title IX of the Education Amendments of 1972 (Higher Education Act), the Americans with Disabilities Act of 1990, and other federal and state laws and regulations, does not discriminate on the basis of race, color, national origin, genetic information, sex, age, sexual orientation, gender identity, religion, disability, or status as a veteran, in any of its policies, practices or procedures. This provision includes, but is not limited to admissions, employment, financial aid, and educational services. The Director of Equal Opportunity, 408 Whitehurst, OSU, Stillwater, OK 74078-1035; Phone 405-744-5371; email: eeo@okstate.edu has been designated to handle inquiries regarding non-discrimination policies. Any person who believes that discriminatory practices have been engaged in based on gender may discuss his or her concerns and file informal or formal complaints of possible violations of Title IX with OSU's Title IX Coordinator 405-744-9154.