The Cameron University Foundation has established an endowed scholarship thanks to the family and friends of the late Patrick Copeland, a CU alumnus and staff member. The Patrick Copeland Memorial Endowed Scholarship in English and Foreign Languages will benefit full-time students who are pursuing a degree in the English & Foreign Languages discipline with preference given to students who have declared a major in International Languages.
"As a family, we could not think of a better way to honor Patrick," says his sister, Candi Bridges. "Cameron University's former slogan, 'My University,' defined Patrick as a whole. His heart was left on that campus when he left this earth. He loved his students and co-workers, and his passion for foreign languages was unmeasurable. This endowment ensures that his love for learning and teaching will never die, and he will continue to help students even after his death."
Copeland, who passed away in January 2018, was a native of Waurika. He earned an Associate in Science in Interdisciplinary Studies in 2008, a Bachelor of Arts in International Languages with a minor in Spanish in 2009, graduating Cum Laude, and a Master of Science in Behavioral Science with a concentration in Psychology in 2012 from CU. Copeland was inducted into Phi Sigma Iota, the international foreign language honor society, serving one term as the chapter president. In 2016, he was inducted into Kappa Delta Pi, the international honor society in education. A Senior Library Associate, he also served as an adjunct instructor of Spanish, Latin and various workshops. He was pursuing a Ph.D. at the time of his death.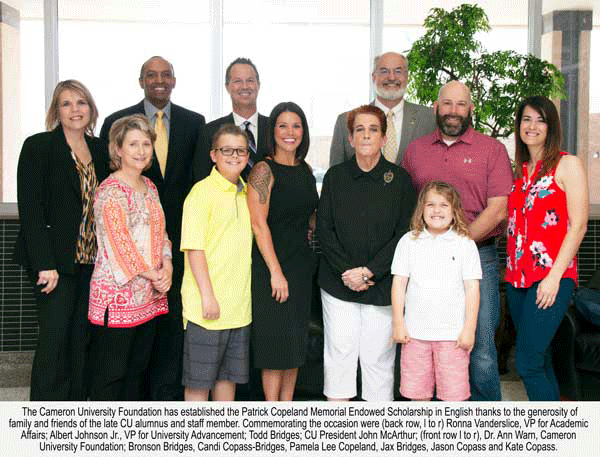 Endowed scholarships managed by the Cameron University Foundation provide financial assistance to deserving students in perpetuity. To learn more about establishing an endowment, contact the Office of University Advancement at 580-581-2999.