ARDMORE, Oklahoma — Chickasaw Nation Governor Bill Anoatubby led ground breaking ceremonies Thursday, Sept. 20, to celebrate the start of construction for a new gym and expansion of services.
Located in a place with historic ties to the Chickasaw Nation, the Chickasaw Nation Ardmore Gym will be built at 2225 Robinson St. N.W., on the Chickasaw Nation Ardmore Campus.
"The new gym will be a welcome addition to our Ardmore Campus. It is an area that has a long tradition of serving the education needs of Chickasaws and other Native American children." Gov. Anoatubby said. "A number of additional services are now available on this campus, which has seen significant expansion of the past several decades."

Construction of the new 15,300-square-foot gymnasium will offer a place for Chickasaw citizens and community members to gather for group or individual physical activities. It will feature a regulation-size basketball court, bleachers for more than 460 spectators, men's and women's locker rooms, showers, lobby and concession area.
The addition of a gym on campus will enhance the Chickasaw Nation's efforts to support an active lifestyle and overall health of Chickasaw people and help fulfill the tribe's mission, Gov. Anoatubby said.
"Maintaining an active lifestyle positively affects Chickasaws of all ages, from our children to our elders. Located throughout the Chickasaw Nation, our gyms and wellness centers serve a unique purpose."
Historical Ties
Bloomfield Academy, a Chickasaw boarding school, was re-established on the property in northeast Ardmore in 1917, after a fire destroyed the original facility near Achille. The school was renamed Carter Seminary in 1932 in honor of Chickasaw Charles D. Carter. It served as a center for education and development for Native youth until the Chickasaw Children's Village was established in Kingston in 2004.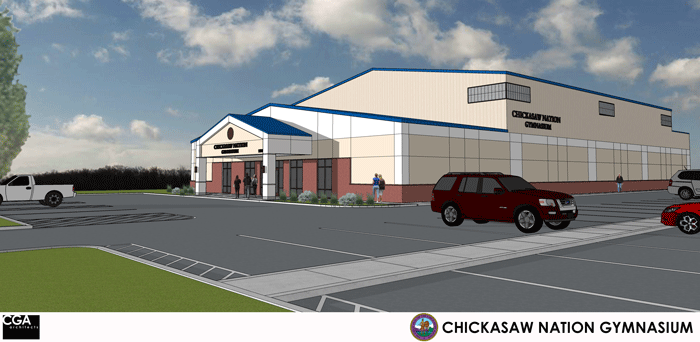 Although the school is no longer on the Ardmore property, its original mission of providing education, advancement and opportunity for Native Americas is carried out with the services available there, including the Chickasaw Nation Health Clinic, Child Development Center, Senior Center, Wellness Center, Area Office, Nutrition Center, Community Center and other facilities.
More than 150 Chickasaws citizens, employees, local leaders and residents joined Gov. Anoatubby for the groundbreaking ceremony.