The West name is synonymous with sports in Jefferson County. Friday evening fans, friends and former players were on hand at Cy Sloan Memorial stadium to express their appreciation for Coach Norman and Louise West and family for their contributions to both education and sports by naming the Waurika football field "Norman West Memorial Field".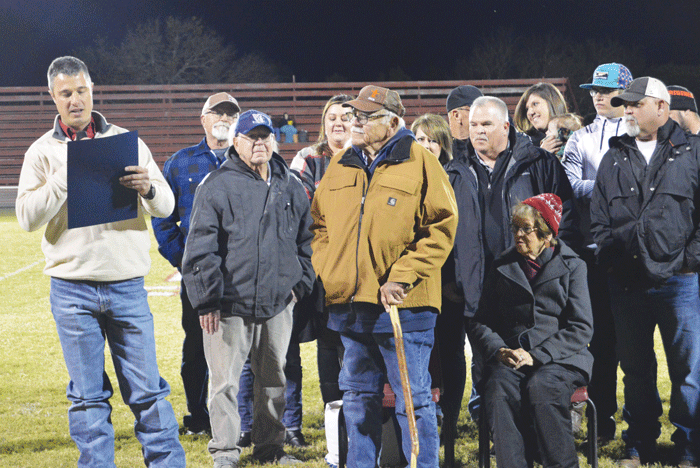 Norman West graduated from Ryan High School in 1959. He attended and played football at Southeastern State University. In 1963 West graduated from college Since that time he and his wife have spent their lives as educators. Coach West has led sports teams for 39 years. Two of those years were spent in Paoli. Louise has always been by Norman's side. They even worked track meets together after retirement.
Coach West moved to Waurika in 1965 and served as the head basketball coach for the boys and girls. He also served as the assistant football coach. At that time, there were only two coaches on the coaching staff. During fifteen seasons, his teams had a 75% winning record.
Over the years, West also coached track and even helped revive the baseball team during the 1980s. He pioneered the concept of a seventh grade only team. This concept is still used in junior high athletics across the area today.
For several years, West served as the middle school principal.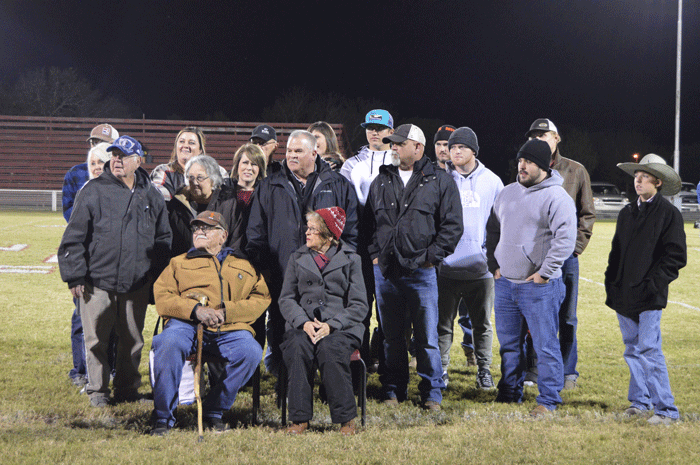 He chaired the Waurika Summer Youth program for 11 years and as president of the Southern 8 Conference for 12 years.
West spent several years as the Waurika Athletic Director. During that time he oversaw the building of the track and baseball facility.
Norman and Louise have two sons: Quana and Byron.
Quana is married to Sharon. He is a school administrator in Wichita Falls.
Byron is the head football coach and athletic director at Henrietta High School.
The Wests also have five grandsons: Hayden, Zack, Parker, Grady, and Quade. Their two great-grandsons are Reece and Ramsey.
During Friday evening's ceremony, State Senator Chris Kidd presented Coach West with a citation from the state senate.
The field was painted with words "Norman West Memorial Field" by former Head Coach and accomplished artist, Glenn Howard.

Athletic Director Everett Hodges presented not only the initial idea for the honor to be bestowed upon coach West, but also served as master of ceremonies for the night's events.
Mr. Nat Lunn, Waurika High School Principal supported the project from the beginning as well as Waurika Schools Superintendent, Cody Simmons.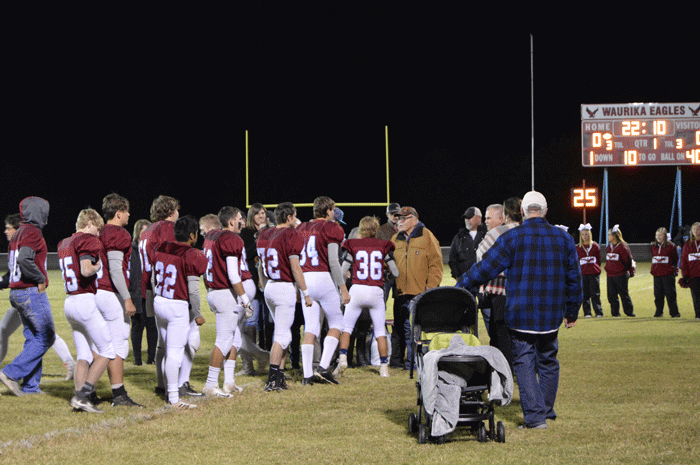 At the end of the ceremony, Superintendent Cody Simmons unveiled a new sign at the east end of the field designating the facility as "Cy Sloan Memorial Stadium and Norman West Memorial Field."