Tonight, the FRIENDS of the Waurika Public Library will have their quarterly meeting at 4:30 pm at the library.  Many of the programs at the library are sponsored by the Friends of the Waurika Public Library.  The Friends have started their 2018 sponsorship drive.  Sponsorship of the Friends starts at just $10.  For more information or to become a sponsor, please visit the Waurika Public Library.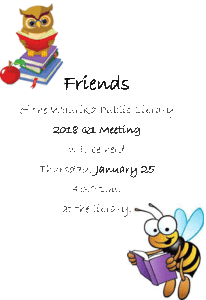 On January 11th, the First Baptist Church of Waurika Pre-school class visited the Library. After reading 'Hide and Snake', the children did activities including 'ice-fishing' and a ring-toss.  Next, we toured the Depot museum. The kids had a lot of fun pressing keys on the typewriters. Thanks to Sharon Morgan and Jan Farris for visiting us. We always enjoy field trips!
The Story Of The Boot was a display of family stories in Jefferson County created to
compliment the Smithsonian Institute exhibition at the Rock Island Depot this summer.
These stories have been compiled into a hardback book.  Copies of 'The Story of the Boot' are $25 and take 2-3 weeks for delivery to the library.  If you would like the copy mailed to a location other than the library, please add an additional $5 for shipping and allow for an additional week for mailing.
'Your Hometown' is a DVD compilation of videos from the local community.  The DVD includes the opening of Veteran's Park, Brickstreet Classic Car Show, Interviews with residents of Jefferson Co. and more!  Copies of the DVD are available at the library for $10 with proceeds going to the Friends of the Waurika Public Library.
Story Time has a new day!  Story Time is now on Tuesdays at 10:00 a.m.  Each week, we read stories to pre-k children.  After Story Time, we have games, puzzles, and children's computer games available.
For information about events, activities and more, visit our Facebook group at https://www.facebook.com/groups/WaurikaPublicLibrary/