Co-Parenting for Resilience:  Divorce or separation is not an easy or favorable decision, especially when minor children are in the home.  A class is available for divorcing or separating parents with minor children living in the home.  My next class is scheduled for 1 p.m. Tuesday, November 13, 2018. Pre-registration is required. Call Jefferson County OSU Extension Office at 580-228-2332 for registration information.  This class is mandatory by law in Oklahoma and is also valuable for Grandparents and other relatives of minor children going through a divorce or separation.
Jefferson County OHCE will meet Tuesday, October 16 at 12:30 p.m. at the Jefferson County OSU Extension office located at the Jefferson County Fairgrounds.  Lesson on "Essential Oils" will be presented by Pat McGriff.  Light food will be available.  Our November meeting will be held at 1 p.m. Tuesday, November 20.  The lesson "Repurposed Jars" will be presented by Tara Brown and will include a "You Make and Take" item – bring a clean empty pint-size jar.  Call 580-228-2332 for additional information.   Deborah Farrar is our Treasurer and is accepting dues at this time.
October is National Cybersecurity Awareness Month
"October 2004 was the first National Cybersecurity Awareness Month. At that time, Facebook was less than a year old and neither the iPhone nor the Samsung Galaxy existed. In 2018, cybersecurity is more than just remembering to update antivirus software and recognizing a phishing attempt. Cybersecurity attacks continuously threaten our nation's critical infrastructure, including transportation, utilities, public health, and financial services. Plus, the more that we integrate technology into our lives, the more vulnerable we become to cybersecurity threats."
Tara Brown, Jefferson County OSU Extension Educator for Family & Consumer Sciences/4-H Youth Development recently attended the 2018 National Extension Association of Family and Consumer Sciences (NEAFCS) conference in San Antonio, Texas.  Oklahoma had 31 delegates.  Tara is a member of the Financial Team which received three awards at the Southern Region level and two awards at the National level.  There were many workshops on using Social Media to getting information out to our public.  If you are a Facebook user, you will find Jefferson County OSU Extension at JeffersonCounty Osu Extension; Jefferson County 4-H page is JeffersonCounty Fourh.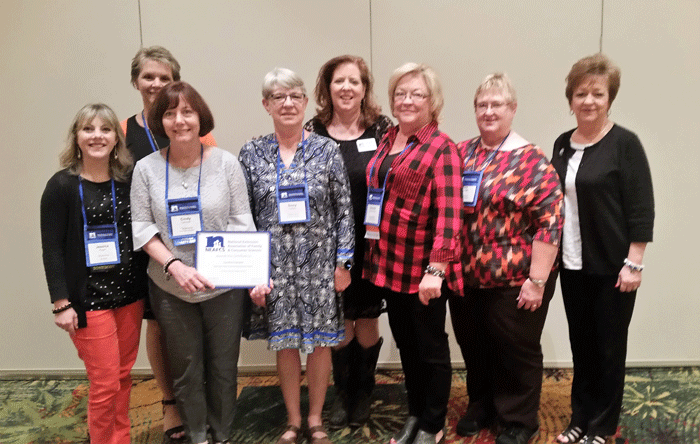 We post information of interest – look us up!
Of course, you may contact our office at 580-228-2332 if you have questions.