The annual Southern Eight Conference All-Star basketball games were played at Temple last Monday night and both games came down the wire.
In the girls' contest, the White team made up of players from Big Pasture, Temple and Ryan came out on top, 50-49, over the Dark team that consisted of players from Waurika, Grandfield and Geronimo.
In the nightcap, the Dark squad (players from Big Pasture, Waurika and Ryan) used 11 three-pointers, including one in the final seconds, to get a 64-63 win over the White team which was comprised of players from Geronimo, Temple and Grandfield.
Steve Spangler, the head coach of the Ryan girls, directed the White team, while Kalee Baxter of Waurika coached the Dark team.
In the girls' game, the White team overcame the 18-point performance of Waurika's Madison Roberson, to get the victory.
The White team got off to a 15-9 lead after the first quarter thanks to Ryan's Juliet Spangler's five points.
However, the Dark team came back in the second frame to narrow the lead to 30-28 at the break.
The Dark managed to grab the lead at 43-41 heading into the fourth quarter, but it was the scoring efforts of the Ryan duo of Lily York and MacKenzie Lewis that rallied the White team to the victory.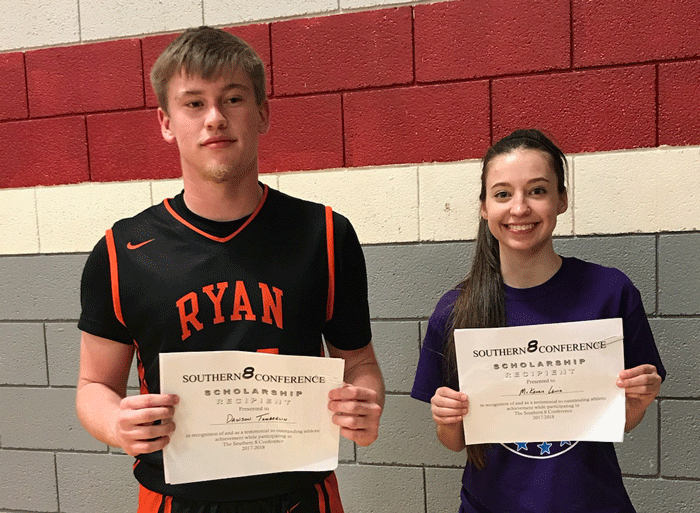 Topping the scorers for the White team was Ryan's Samantha Good with nine points. Spangler finished with seven, York had six and Lewis added five points.
Nine of the 10 members of the White team scored.
Adding to Roberson's game-high point total was Grandfield's Laylee Ramirez that totaled 13 points in the losing effort.
Asia Smith of Waurika contributed two points, while the Lady Eagles' Lexie Streeter played but did not score.
The Cowboys' Judd Matthes coached the Dark team to the narrow victory thanks to Big Pasture's Dalton Groves' long-range trey with three seconds to play to decide the contest.
The Dark team managed a 14-11 lead after the first quarter, but the White squad snared a 30-29 advantage at the half.
The Dark outscored the White, 17-15, in the third quarter to hold a slim one-point lead heading into the fourth quarter.
The two teams battled on even terms in the fourth quarter with Groves' trey ultimately giving the Dark team the win.
The Dark team was able to gain the victory thanks to four three-pointers in the final quarter including two from Ryan's Skylar Parkhill.
Groves and his Big Pasture teammate Conner Boydston led the Dark team with 11 points apiece.
Parkhill finished with eight points and his teammate, Dawson Tomberlin, added three points.
Among the Waurika players, Cache Arellano had eight points, while Kevin Garcia and Seth Cathey each totaled seven tallies. Turner Mora scored two points to round out the Waurika contingent.
Ryan's Tomberlin and Lewis were each awarded a $250 scholarship by the conference.