The 2019 Summer Reading Program wrapped up last week on Friday, July 26th.
Monday July 22nd, Ramona Johnson returned to take over coordinating the last week.
After Drop Everything And Read, the kids made abstract art with some craft sticks and paint.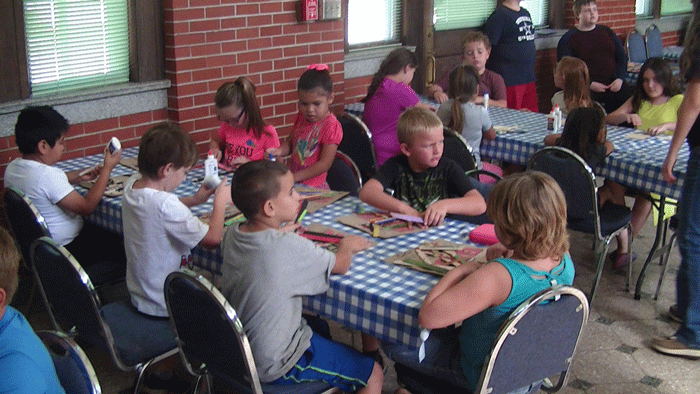 Thanks to Pat McGriff for preparing chicken, fruits and vegetables for lunch. Thanks to Starr Heron and Melicia McFadden for serving.
On Tuesday, after Drop Everything and Read, the kids continued working on their craft sticks. They painted them the day before and then glued them together.
Next, the kids went outside. Some of the kids made sidewalk art with chalk while others played kickball.
Thanks to Pat McGriff for preparing and serving spaghetti and green beans for lunch.
On Wednesday, after Drop Everything And Read, Nicole Hill and Jacey Smith from the Medicine Park Aquarium and Natural Sciences Center came to talk to the kids.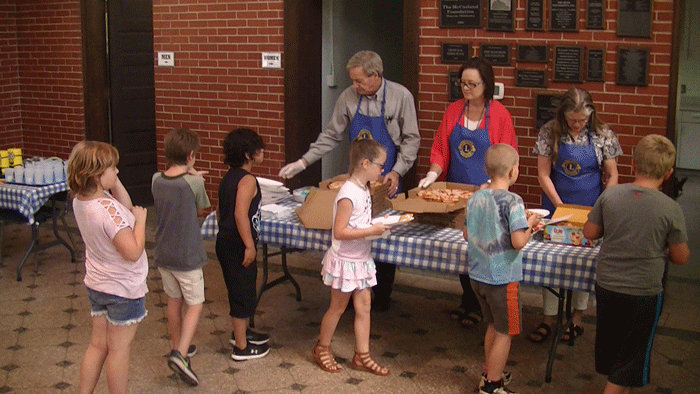 The kids each got a piece of lettuce to put in front of them while Franklin, a tortoise, went around and ate all of it.
After learning about turtles and tortoises, the kids made chimes out of small clay pots with nuts and bolts.
Thanks to Kristie Gaines and the Waurika Quick Mart for providing pizza for lunch. Thanks to the Waurika Lions Club for serving.
On Thursday, Heidi Townsend filled in for Ramona Johnson. After DEAR time, the kids worked on making a book about what they had done over the summer. The covers of the books were coloring pages made from pictures of the kids.
As they finished up working on their books, the kids went outside to make sidewalk art with chalk and play kick ball.
Thanks to Mark Lehew and Susan Howard of Doc's Place for providing chicken and french fries for lunch. Thanks to Carol Prewitt for serving.
Friday was the last day of the 2019 Summer Reading Program 🙁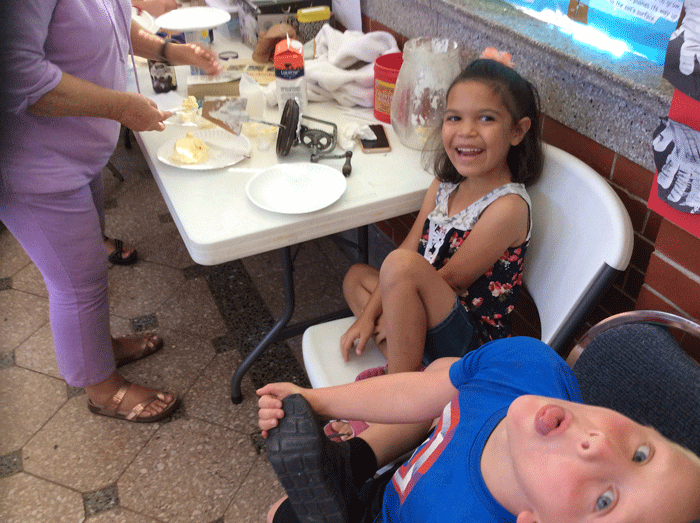 After Drop Everything And Read, Ramona Johnson showed the kids how to churn butter with a family churner over 100 years old.
Once all of the kids churned the butter, they each got to taste a sample alone and on some bread.
Next, it was time for lunch. Thanks to Juan Alvarez and his team at Sonic for providing grilled cheese and tater tots for lunch. Thanks to Melicia McFadden for picking it up.
Thanks to Ramona Johnson and Heidi Townsend for planning activities last week. Thanks to Karlee Berthiaume for her assistance. Thanks to Brittney Helterbran for all of her help.
Thanks to Jazmine Simon, Presley Parker, Merzedez Brown, Jon Campiche, Tye Kier, and Tegan Kier for volunteering to help with activities and serving lunch.
Thanks to all of the volunteers, sponsors, local businesses and organizations that made the 2019 Waurika Summer Reading Program a great success!