Members of the community stood in the freezing cold out of respect honoring those members of our armed forces who have served our nation so faithfully.
Stores were closed, banks were closed, and families and friends observed the memorial service in downtown Waurika at Veterans Park to observe Veterans Day following the annual parade.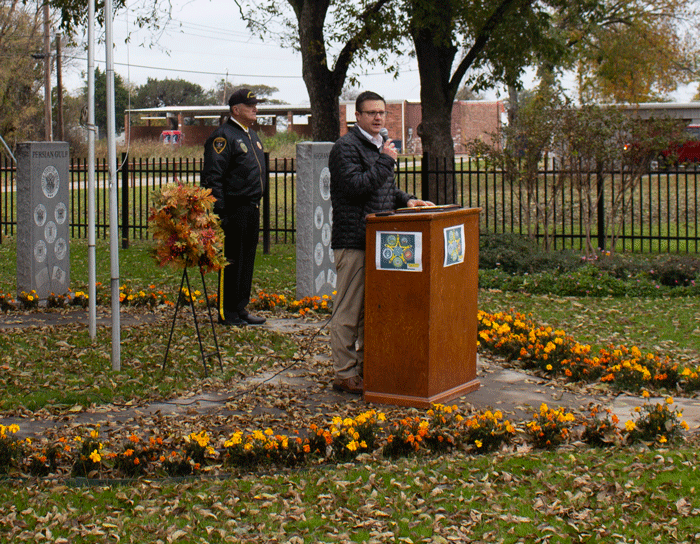 The service began with the presentation of colors by the Sheppard Honor Guard from Sheppard Air Force Base, Wichita Falls, Texas.
Waurika graduate (class of 1999), Lieutenant Commander Misty R. Probst of the United States Navy, was the featured guest speaker.
Propst attended boot camp in Great Lakes, Illinois in 1999 and graduated Fire Controlman "A" school in 2000.
Her initial tour was aboard the USS Hayler (DD 997). Subsequent tours included : USS MAHAN (DDG 72). She was selected for the Seaman to Admiral (STA21) commissioning program in 2005.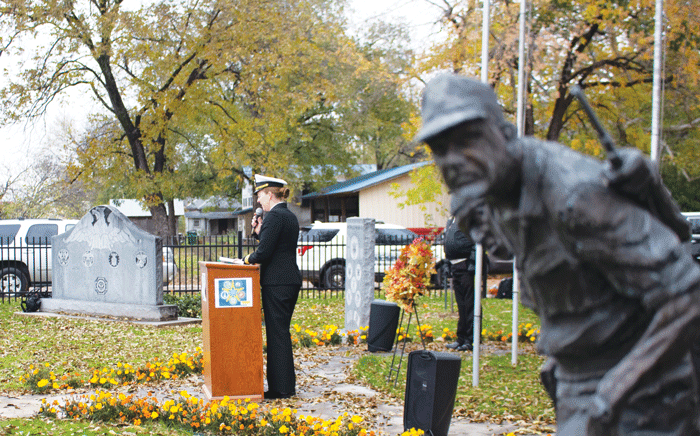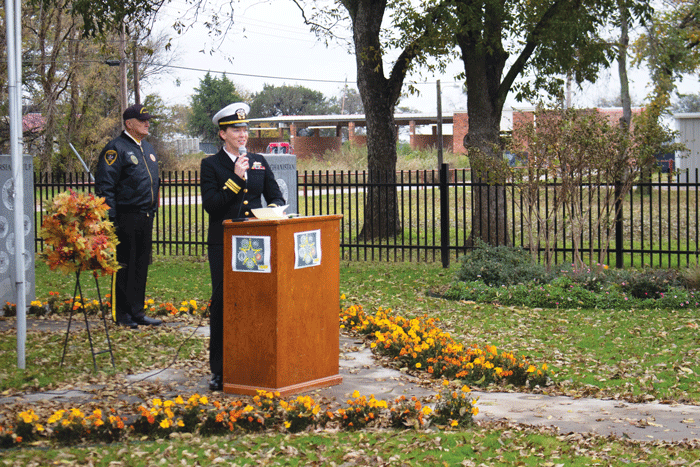 Propst graduated Old Dominion University in Norfolk, VA in 2008 with a B.S. In Psychology and a B.A. In History.
She was commissioned as a Surface Warfare Officer in 2008. After commissioning, her first tour was onboard the USS MONTEREY (CG 61) as the Electrical Officer.
In 2011 she entered Maritime Civil Affairs and Security Training Command as a Training Officer.
Propst second tour was onboard the USS SPRUANCE (DDG 111) as the Fire Control Officer.
She also served as the Assistant Force Personnel Officer for Commander, Naval Surface Force Pacific (COMNAVSURFPAC).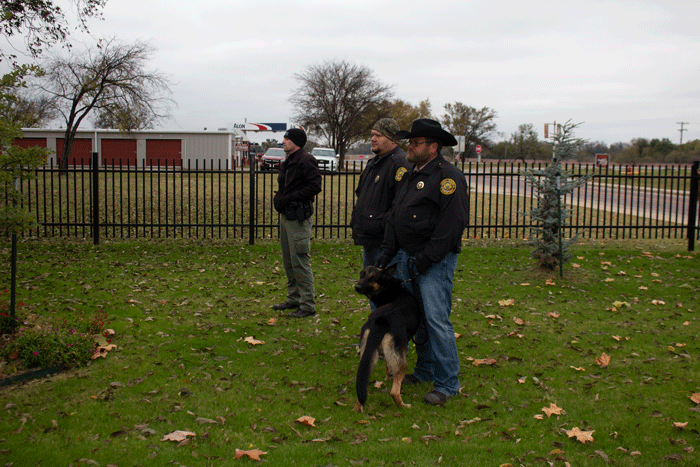 Lt. Probst earned her M.S. In International Relations from Troy University. Her first Department Head tour was onboard the USS COMSTOCK (lsd 45) as the Operations Officer. She is currently serving as the Operations Officer onboard the USS COWPENS (CG 63) in San Diego, California.
She is married to David Propst of Staunton, Virginia. They have one daughter and one son, Dakota and Trey.
In her speech she said, "I'm very happy to be back in Waurika today to be a part of this Veterans Day ceremony. I grew up in Hastings and moved here to Waurika during junior high.
"I owe so much to the people of this town. They taught me to work hard, persevere and the true power of encouragement.
"I remember growing up with my step-dad Johnny Stewart. There was a picture of his US Navy ship on the wall. We have so many members of our community who are veterans. As a teenager I didn't realize that.
"My neighbor in Hastings, J.R. Gillespie, told me three things I needed to do to be successful in the Navy: Show up on time, wear the right uniform and keep my nose clean. I manage to do that most days in my service.
"When working at the Country Cooking Cafe with Joe and Debbie Jinks. Many of our coffee drinkers were veterans. I remember Jim Phelan. He was an aircraft pilot. He stayed in touch with me by sending me cards and letters.
"Ed Keith told me that one day I would be Lt. Montgomery (Montgomery was her maiden name)." It was his encouragement that inspired her to become an officer she said.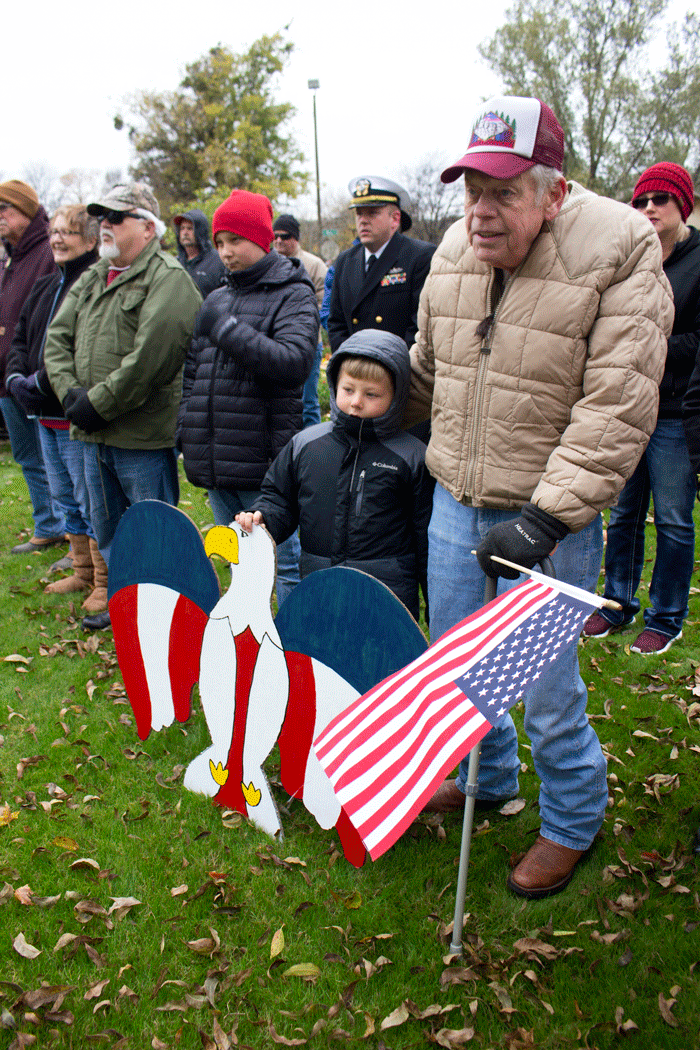 "My graduating class of 1999 had about ten members who joined the military. Most of us chose the Navy because Tyler Miller assured us that we would sleep in a clean rack instead of sleeping in the mud like the Army. Thank you Tyler, I appreciate that," She said.
"On my first plane trip to Chicago and then to boot camp my time was made bearable because of letters from my mom, Joyce Gresham, who wrote me every single day. I really appreciate that Mom.
"The outpouring of kindness of people from Waurika always surprises me. In boot camp and on to deployment, I received cards from Debbie and Joe that had been signed by many members of the community who left little notes for me. These cards and letters meant so much to me and encouraged me. Especially during boot camp when all day I was getting screamed at.
"My courage to begin a career in the Navy and continue to serve is because of you.
"Even last year when I was promoted to Lt. Commander, I received a great reminder of my small town home still cared when I received a card and notes of congratulations.
"I ask you to cherish the veterans who still live here in our community. Stop and listen to their stories of adventure and faith.
"Without my faith in the Lord, I could never have made the US Navy a career.
"My comfort comes from Hebrews 13:5 where God says, 'He will never leave me or forsake me.'"
She gave a special recognition to Vietnam vets who may not have been given a proper welcome upon their return home.
She thanked all the veterans present for their service at home and abroad.
She closed with the song, "God Bless the USA" that she says was introduced to her by her "amazing" teacher, Pat McGriff."
Jon Waid, President of the Waurika Chamber of Commerce served as master of ceremonies for the memorial service while Pastor Adam Brinson of the First United Methodist Church of Waurika offered the prayer for our veterans and the safety of our men and women who serve our nation in uniform around the world.