Spring is a few months away, but several groups gathered on Monday to watch the Oklahoma Department of Transportation (ODOT) plant wildflower seeds that will color the entrances to Waurika with beautiful flowers in late April and continue through July. The Waurika wildflower project is in its fifth year. It is a project of the GFWC-OK Waurika Sorosis Club, Color
Oklahoma and the Oklahoma Department of Transportation with cooperation from the City of Waurika and Jefferson County.
One hundred forty five pounds of wildflower seeds were donated to the Waurika Sorosis Club with just over half coming from a grant from Color Oklahoma. The grant was matched by donations from the Waurika Sorosis Club, Bartling Ranch, Bentley Bartling Enterprises and Marketing Solutions Groups. Additional Seeds were generously donated by Color Oklahoma Board Members Craig Williams owner of Williams Landscape in Lawton and Monica Bartling. Most of the seeds are perennials or seeds that re-seed themselves each year. "We add additional seeds each year to continually extend the area planted and also to keep the established areas blooming," Craig Williams stated. "My vision is to have wildflowers blooming each spring along U.S Highway 81 from the Red River to the Stephens County Line and beyond."
"ODOT has a long standing Roadside Wildflower Program that has planted approximately 2,500 acres of wildflowers since the program's inception in 1990," according to Billy Martin, ODOT County Superintendent for Jefferson County. "This year we are planting 15.8 acres of seeds along the entrances to Waurika on U.S. Highway 70 and U.S. Highway 81 as well as State Highway 5. The US-70 planting includes both east and west entrances from the entrance to the Hospital to the east and where Highway 79 and US-70 merge to the West. 
We are also adding a planting on Highway 79 on the Oklahoma side of the Red River bridge. This program is just one of many programs that ODOT participates in or facilitates to keep our roadways beautiful across the state. This year we will also plant a Monarch habitat along US Highway 81 in Waurika."
"We are pleased to assist with this project and support the plantings along the entrances to our city," stated Kyote Dunn, Waurika City Manager. "We work hard to keep our city beautiful and support all the volunteers and programs that help with that goal. Part of our commitment is that we don't mow the outer edges of the entrance at U.S. Highway 81 and "D" Avenue from April to July. This allows the wildflowers to grow and for them to re-seed at the end of the growing season. We do mow the areas closest to "D" Avenue for safety purposes, but there is a zone that we preserve for the growth of the flowers. We thank the individuals and organizations who donate to this project. There are no city funds used on the wildflower project and it actually saves us a little on mowing expenses."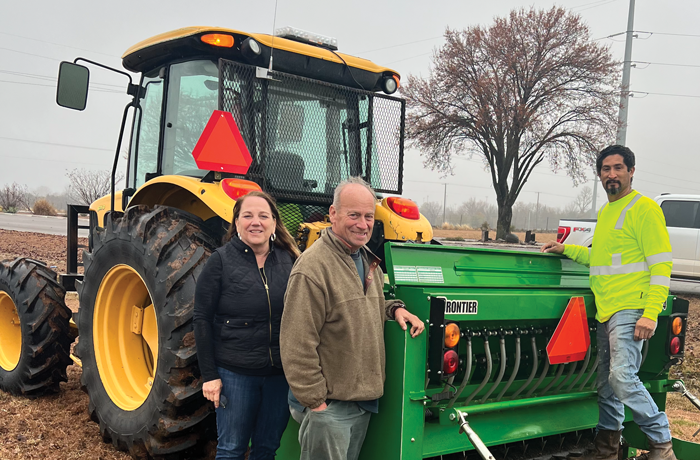 Elizabeth Scott, GFWC-OK Waurika Sorosis Club Environmental Chairperson for 2022-2024, stated, "The Wildflower Project is one of our club's signature programs. Since 2018, with our first planting of seven acres north and south of the U.S. 70 and U.S 81 intersections, we continue to grow the area planted. We are grateful for Color Oklahoma working with us each year and that our club members are so supportive of this project. This year's planting includes seeds for Indian Blanket, Lance Tickseed, Showy Primrose, Plains Coreopsis, Red Corn and California Poppies, and Bishop's Flower."
Color Oklahoma with Wildflowers is part of the Native Plant Society of Oklahoma.
Color Oklahoma provides grants to communities to purchase wildflower seeds. Color Oklahoma Grant Applications are available on the Color Oklahoma website and are due each year by July 31. Grants are funded through the sale of Oklahoma vanity Wildflower license plates. You can find out more about Color Oklahoma and how to purchase a license plate on the Color Oklahoma website at https://coloroklahoma.com/you-can-help/.