Downtown Again 2018 is a wrap! This year's event was the best yet. The chamber of commerce started this event 6 years ago with a vision. The vision was to bring life back to Main Street on the usually quiet weekends, to reimagine forgotten spaces with new activity, and to bring pride and excitement back to our community. If you were downtown on Saturday you undoubtedly saw and felt that vision coming to life. 
The Downtown Dash which began as the Moneka Trail Run got back to its roots. This year's route led runners and walkers down Broadway, through both sides of Harmon Park, and even through portions of the golf course. This year's added obstacle course was a big hit with participants which ranged in ages 3-70, and will surely be an ongoing feature of the event.
The Farmers Market was a great success in its debut and official opening. As one of the featured draws for this year's event, the Farmers Market definitely brought in the crowd. Local and area vendors sold items such as fresh eggs, garden greens, honey, handmade soaps and crafts, and of course salsa. The salsa making contest, won by Dee Goss, was a crowd favorite. Our four participants brought in over 70 votes and lots of excitement. Most of our vendors and salsa makers sold most if not all of their items. 
The real vision of Downtown Again is to promote ideas and visions of what we can do to continue to transform our Main Street and to promote our current businesses. We encourage "pop-up shops" where locals can test out an idea for a business they have been dreaming of, or businesses to try something new. This year's pop-up shops included Doc's Place, The Book Fair, Mexican Food trailer, and Brickstreet BBQ (Food Pantry). In talking with all of our, food vendors, farmers market vendors, and local businesses open that day, it is estimated that at least $3K was spent in Waurika on Saturday. The best part is that it directly benefited Waurikans.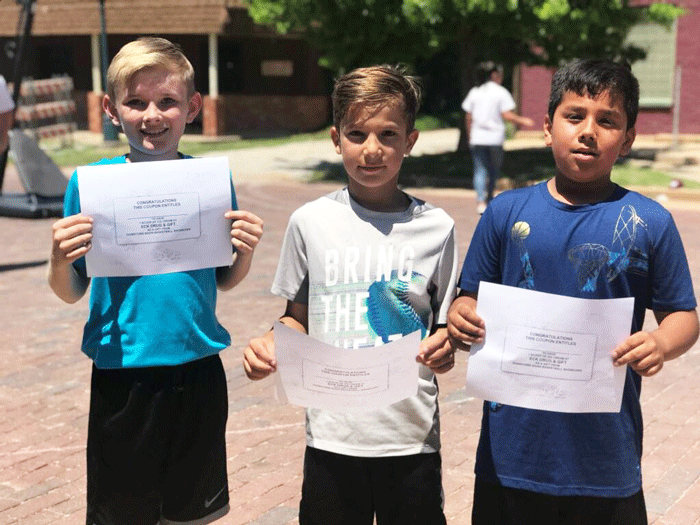 There is much more that can be said about all of the activity over the weekend. There are some things that we all should be proud of. On a Saturday in Waurika, the street was packed. On a Saturday in Waurika, families were playing, shopping, and spending time downtown. On a Saturday in Waurika, we all got a glimpse of where we can go from here. It takes all of us working together but what a wonderful thing to look forward to. 
The Downtown Again article in last week's paper said that this is an event "created by Waurikans for Waurikans." If you were not able to make it downtown last Saturday you truly missed out on a wonderful day in Waurika.