Week 2 of the Summer Reading Program started on June 11th. Ramona Johnson and Heidi Townsend took over setting up activities for the week.  
On Monday, after Drop Everything And Read, Ramona talked about the importance of books and then had the kids make their own books using rubber bands and craft sticks to bind them.  After reading and crafts the kids went outside to draw on the bricks with chalk while lunch was made. Thanks to Vicki Etheridge and Starr Heron for making and serving PB&J with a side of fruit.
On Tuesday, after DEAR time, the kids talked about seeds and growing plants.  After the discussion, the kids got to plant some flower seeds in cups. Next, they drew flowers in the books they had made yesterday.  For lunch, we thank Dee Goss and her team at Circle D's for providing corn dogs, french fries and drinks. Thanks to Richard and Patricia McGriff for serving lunch.
On Wednesday, Ken Smith and members of the Comanche Masonic Lodge came to help out and donate to the Summer Reading Program. The Comanche Masonic Lodge makes a sizable donation each year that really helps support the Summer Reading Program.
After DEAR time, the kids learned about recipes. Then, they added the recipe for Rice Krispies Treats to the books they made.  Next, the kids proceeded to make Rice Krispies Treats for themselves. The kids had fun mashing and shaping the treats and of course eating them.  Wednesdays are pizza day! We thank Kristie Gaines and her team at Waurika Quick Mart for providing the pizzas and thanks to the Waurika Lions Club and Comanche Masonic Lodge 41 for serving.
On Thursday, after DEAR time, Ramona Johnson read 'Our Day at the Zoo' to the kids. 'Our Day at the Zoo' is a children's book produced by the OKC Zoo. The book is part of a promotion by the OKC Zoo giving free passes to those that read the book. Kids attending received free passes to the zoo! If would like free passes to the OKC Zoo, you can come by the library and have your child read the book or read it to them.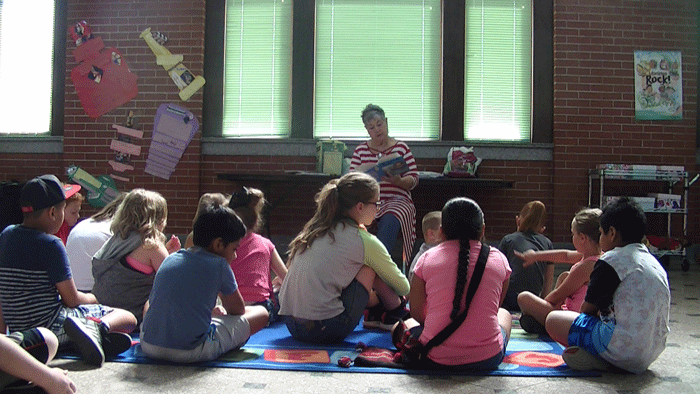 After reading, Madison with the Oklahoma City Zoo and Botanical Garden came to talk about animals with the kids. She also brought along a tenrec, a Savannah monitor lizard, and some Madagascar hissing cockroaches. The kids had a great time. 
Thank you, Madison!
After the visit from the zoo, it was time for lunch. Thanks to Adam Brinson and Jeffco Helping Hands for providing pancakes, sausage, fruit, potatoes and milk for lunch. Thanks to the Waurika Alumni Association for serving.
Friday wrapped up Week 2 of the Summer Reading Program. Fridays are park days and after Drop Everything And Read, the kids headed outside for some fla-vor-ice and play.  Once the kids came back inside, it was time for lunch.  Thanks to the Waurika Fire and Police Departments for grilling hamburgers. Thanks to Carol Prewitt and Melicia McFadden for prepping and serving lunch.
Thanks to Ramona Johnson and Heidi Townsend for coordinating this week. Thanks to Karlee Berthiaume for all of her assistance. Thanks to Brittney Helterbran for all of her help. Thanks to Destiny Foster and Presley Parker for volunteering this summer.
Thanks to all of the people in our community that support this wonderful program.
It's not too late to sign your child up! Programming runs each weekday, June 4 – July 27 – with the exception of the July 4 holiday. Reading and activities will be from 10:00 a.m. – 11:30 a.m. with lunch served at 11:30 a.m. Children attending the Summer Reading Program must be picked up by their parent/guardian by noon each day.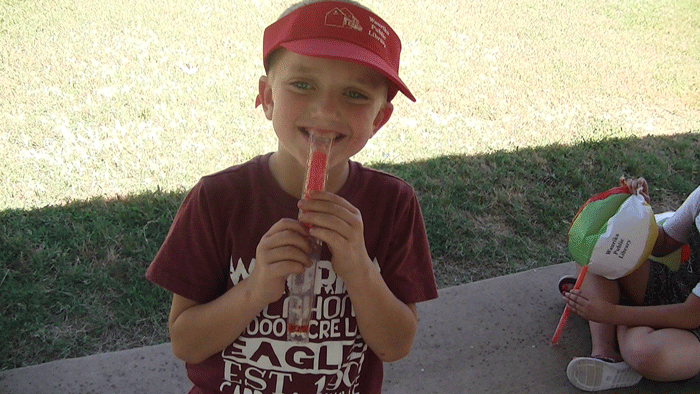 Children must be registered to attend. In addition to registration, age requirements include children entering first grade in the fall through those entering fifth grade in the fall. Older school-aged children are welcome to participate as helpers. For information or registration forms, visit the Waurika Public Library or call 580.228.3274.
The Summer Reading Program is free to attend. The public library, community organizations and individuals care about your children. Together we raised funds to offer daily educational programs and week-day lunches to keep your children's minds and bodies fed this summer. Whether keeping track of the amount of time your children spend reading or the number of books they've read this summer, children who attend the Summer Reading Program keep their minds active and enter the new school year ready to succeed.
For information about events, activities and more, visit our Facebook group at https://www.facebook.com/groups/WaurikaPublicLibrary/