Waurika Chamber of Commerce held a ribbon cutting ceremony last week for the newest business in town, Survivor Arms.
The new store is a hunter's dream come true. Owner Ben Merritt is a firearms aficionado. He loves guns. He knows Guns. It's more than just a hobby, it's a passion he loves to share with his customers.
He has a wide variety of guns totaling around 185 as of this writing.
Thus far business has been good. Traffic has been consistent.
It was hard for us to complete an interview during working hours because of the number of customers who kept coming through the door. Needless to say, this is encouraging to a new business owner.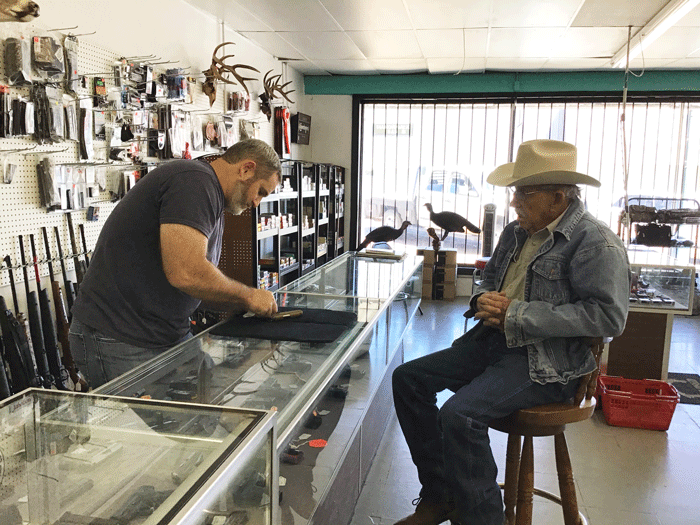 Ben Merritt is originally from Flower Mound, just outside of Lawton. Growing up he has always had a keen interest in hunting and a healthy respect for firearms. Ben is an avid hunter The deer heads mounted in the Gun Store were all from Jefferson County.
The first gun he ever owned was a 22 rifle he received for Christmas when he was twelve years old. It's the only thing he had wanted that year. That Christmas morning he had accidentally opened a present early that contained 22 caliber bullets. At first he was disheartened because he now had the bullets but didn't have a gun. Later that same day he received the 22 rifle as a present from his older brother. It's a fond memory he cherishes deeply.
He and his wife, Darcy, met at Sutherlands Lumber yard. His wife was born and raised in Illinois. Her brother joined the military and was transferred to Lawton. Darci moved to Lawton in order to live closer to him. The two met at Sutherlands and have been together ever since. Ben worked for the Fire Department for 16 years. He also had fishing and lure business he started around 2008. It was very successful. He even started a fishing store in Lawton, called Top Five Tackle, that he was able to sell after it became profitable.
In 2005 Ben and his wife, Darci. moved to Waurika. They were attracted to Waurika because they wanted to raise their future family in a smaller community. Darcy taught at Waurika for a year and then transferred to Grandview. Their daughters are Kayleigh and Loralei.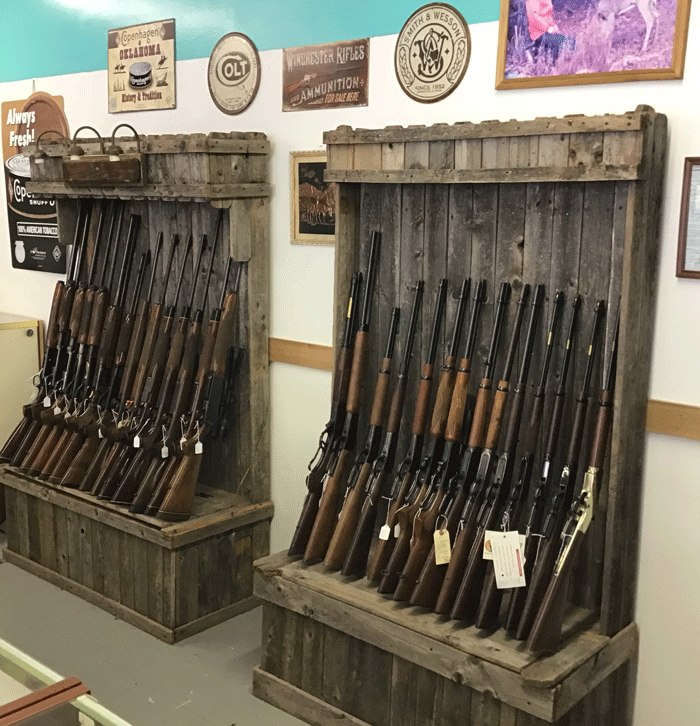 He recently won his bout with cancer. T-Cell Lymphoma. He contracted the disease while working as a fireman in Lawton. He originally thought he was fighting sinus infections. Because they were not clearing up with the use of antibiotics, the doctor said he needed surgery. Thankfully he was on vacation at the time and was able to get it under way immediately. During the surgery the doctor discovered he had T-Cell Lymphoma. After some aggressive treatments, he is now cancer free. Coincidently, the surgery occurred on his 39th birthday. It also ended his firefighting career.
Although was able to retire at the age 40, his desire to remain active and productive wouldn't allow him to just sit at the house. That's just one of the reasons he opened Survivor Arms.
Along with rifles, pistols, ammo, targets, knives, a ladies crossbow, and various accessories, he also offers items that appeal to other family members such as clothing, and home decor items. There are even toys to occupy the children as dad shops for a great hunting rifle. Along with new guns he also sells lightly used guns. In the near future he will be selling suppressors (silencers) as well. He is currently working with 8 distributers. Therefore, he has a wide variety of brand names to choose from.
Biff Eck says it's nice to see another building downtown occupied with a business that is meeting a need. Ben knows his business.
Although he and his family have been members of the community for years, it's nice to welcome them to the business community as well. Congratulations!