Red River Technology Center instructors recently recognized their Outstanding Students for the 2017-18 school year at the school's annual awards assembly on May 3. 
During the assembly, which was held once in the morning and afternoon, instructors were given time to honor students with the Outstanding Student of the Year awards. Instructors chose students from both the morning and afternoon programs to recognize based on attendance, participation in class, leadership and citizenship, among other qualities.
In all, 53 students from 14 different programs were honored as Outstanding Students of the Year.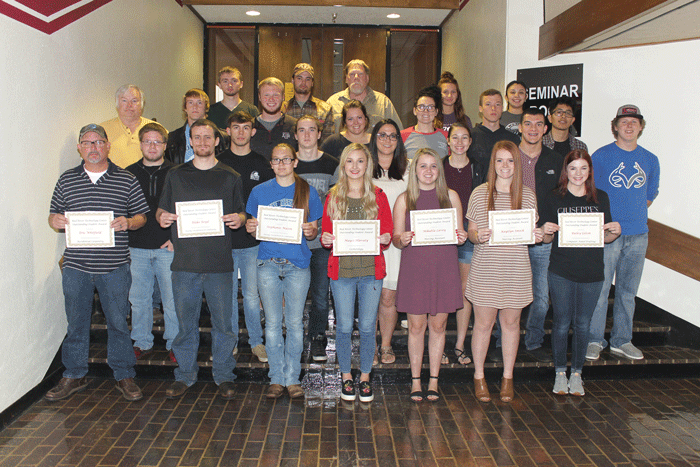 Students recognized in the morning awards assembly were: Salbador Gonzalez, Auto Collision; Triston Moore, Auto Collision; Ren Griffith, Auto Service I; Jordan Taylor, Auto Service I; Jayce Blevins, Auto Service II; Harry Frasher, Auto Service II; Eric Whitfield, Carpentry; Bailey Gilson, Computer-Aided Drafting; Jordan Franklin, Cosmetology; Macy Hlavaty, Cosmetology; Nathaniel Lim, Electronics; Joseph Ferguson, Electronics; Stephanie Mason, Residential Heating and Air Conditioning (HVAC); Blake Boyd, HVAC; Mikahla Lavey, Health Careers I; Kaytlyn Smock, Health Careers I; Brayden Strange, Health Careers I; Tyler Lavey, Health Careers I; Katrina Bevans, Health Careers II; Connor Roddy, Pre-Engineering Academy; Christian Swinhart, Precision Machining; Zach Welch, Welding; John Sadler, Welding; Jared Gregston, Biomedical Science Academy; Toyah Barton, Business; Caitlyn Hill, Business; Chelsi Lawson, Practical Nursing; Nathaly Leanos, Practical Nursing; Sara Murray, Practical Nursing; and Amy Smith, Practical Nursing.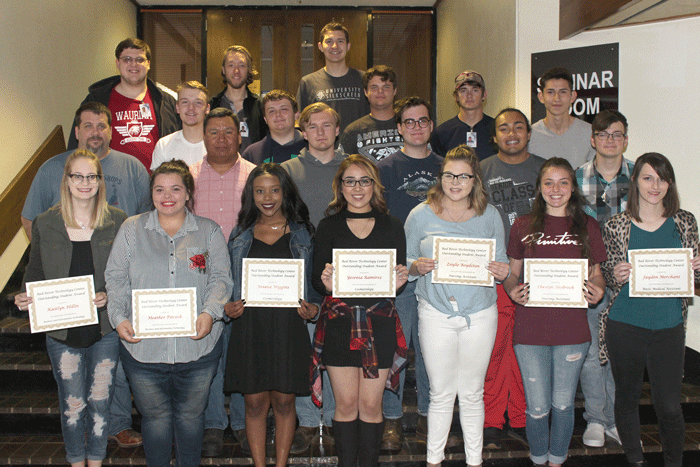 Students recognized during the afternoon awards assembly were: Ryan Akers, Auto Collision; Alex Vanderburg, Auto Service I; Arien Wilkins, Auto Service II; Yesenia Ramirez, Cosmetology; Ariana Wiggins, Cosmetology; Mason Boyd, Carpentry; Karen Wisdom, Carpentry; Rydder Greenway, Electronics; Jacob Alvarez, Electronics; Zaylie Boydston, Health Careers I; Taylor Couch, Health Careers I; Cheslyn Hesbrook, Health Careers I;  Harold Moran, Health Careers II; Jayden Merchant, Health Careers II; Trevor McCurdy, Pre-Engineering; Sam Davis, Precision Machining; Ryley Shipman, Welding; Brian Mercer, HVAC; Caleb Barrick, HVAC; Kaitlin Hillin, Business; Heather Pitcock, Business; Alec Norton, Computer-Aided Drafting; and Bradon Woods, Computer-Aided Drafting.
For more information about Red River Technology Center and its programs, visit www.rrtc.edu or call 580-255-2903.