It's as much a part of Ryan as City Hall, or the bricks on Washington street.
Ryan Drug has been an essential part of the community since Dewey and Gladys opened the doors on January 1, 1924.
While operating the drug store, Dewey also found time to raise a farm.
The store evokes fond memories for many.
Jon Harris, former Ryan resident and Jefferson county historian, remembers Dewey and Gladys Nash.
"His wife, Gladys, was one of the sweetest, most benevolent humans to visit this earth," says Harris.
She had been his sixth grade teacher at Ryan.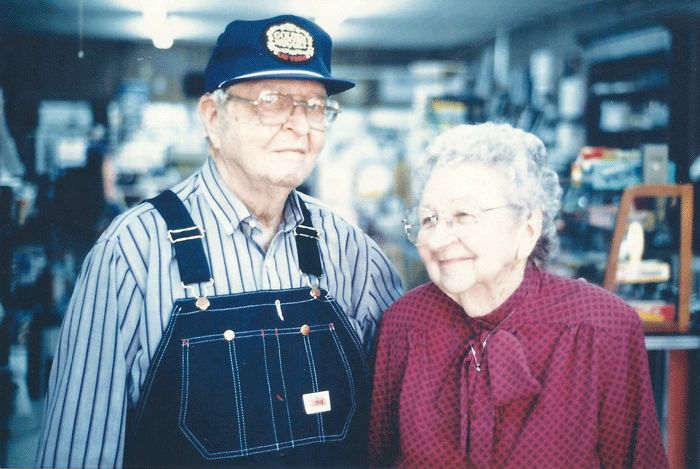 "I remember him smoking his pipe," Harris remembered. He also remembered that you could get pipe tobacco in the store.
What Harris really enjoyed was the strawberry ice cream soda you could get at the old soda fountain.
Visiting the Ryan Drug for Harris back in the day was like stepping into a Norman Rockwell painting.
Another one of the former customers remembers seeing Dewey in the store on Saturdays dressed in his dress shirt and slacks kicked back in his recliner watching a ball game.
Harris said both Dewey and Gladys would enjoy their recliners during their later years at the Ryan Drug.
Their son, James Lyle, helped out around the store after he left social work around 1985.
They had two daughters as well. Their names were Kathleen and Juanita.
Juanita is the mother of Mollye Compton, the current owner.
Originally, the store was confined to the building on the east side of the current location. It was actually in just half of the building. The other half belonged to Peggy Baker and her dress and flower shop.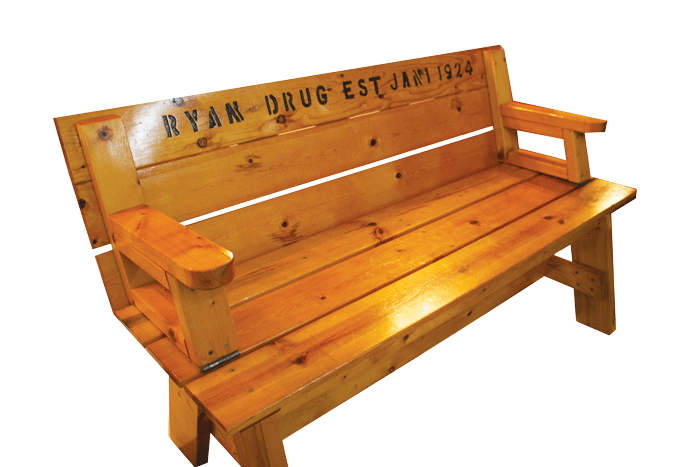 Mollye's interest in the Drug store began when she was 9 years old.
That summer Mollye and her twin brother Mel would visit while their mom was working on her master's degree in special education.
Mollye learned to work at the soda fountain making cherry limeades and salty dogs. A salty dog is shaved ice with a lime squeezed in and topped off with salt. She said there were lots of people who liked the salty dogs including Diane Breeze.
She would follow her grandad around the store. It was during one of those times that it began to dawn on her that she might want to become a pharmacist when she grew up.
This epiphany came to her during a time when she was exploring other interests.
Mollye had been in the band since she was in the seventh grade. This fostered her love for music during the time she was growing up in Denison, Texas.
She graduated from Denison High School in 1978. After graduation she attended Grayson County Junior College for two years and took the pre-requisites for pharmacy school.
She was accepted at Southwestern in Weatherford, Oklahoma.
Mollye earned her pharmacy degree in December of 1987.
This was an opportunity not afforded to Kathleen, Dewey and Gladys' oldest daughter.
Kathleen was born in 1925. Once she graduated from high school she wanted to become a pharmacist, but her father wouldn't allow it. He told her, "It's not a career for a woman."
Instead Kathleen became a teacher.
Mollye officially began working as a pharmacists for her grandfather on April 1, 1989. At that time Dewey was 90 years old.
She bought the store from her grandad in 1990, just after her daughter, Brionna, was born. Dewey passed away in 1991. It was before he passed that she bought the building the drug store is now in.
"I didn't think I was going to get to buy it," she says. She couldn't get a loan at the time.
One day Jack Savage came in. She said, "I thought, 'What have I got to lose?', so I just asked him if he thought his bank would loan me the money."
Jack asked her how much she thought she would need. She told him and he told her, "Just come and fill out the paperwork."
Archie Fulton owned the building just to the west. He had bought it from Robert Huff. Birdie and Claude Thorpe originally owned it when it was a movie theater.
The main part of the current store collapsed in 2000 and had to be refurbished. It had to be completely gutted. Ronnie Campeche and Raymond Pollan did the work. It didn't take them very long she says.
After the remodel, she moved the old soda fountain into the new part. It was nostalgic for customers, especially those who hadn't been in town for years. Hershel Shoffner was the one who kept the soda fountain in proper working order.
She recently sold the old soda fountain to her nephew Brian Hander who lives in Denison, Texas. He has acquired a building in Denison to show off the fountain along with the memorabilia from Dewey Nash.
Molley has enjoyed the years she has operated the drug store. However, she is ready for the change.
"I just want to slow down," Mollye says. She is ready for less stress in here life. However, she goes to explain, "You hate to leave something like this behind," she says with tears coming into her eyes. It's obvious she has a deep love for the people of Ryan and those she has served over the years.
She knows that there is a level of customer service that the community receives from businesses in a small town that they don't receive in the larger cities.
Lanette Weatherly has worked with Mollye off and on for over 20 years. It was sad to watch her say goodbye to Mollye and Brionna Monday evening as the last shift of the store's official business day came to a close. It was the end of an era.
Brionna has her own fond memories of growing up at the Ryan Drug store.
Brionna remembers the fun she had with Dru Harper. Dru would always stop by at 3:00 pm for their daily snack. You could say that Dru was like a second mom to Brionna.
Mollye and Brionna will pack up some of the remainder of the items slowly as they begin a new chapter in their lives.
Mollye will be working some for Biff Eck at Eck Drug in Waurika. She looks forward to less hours and less stress. However, she is grateful to everyone who was such a blessing to her. With tears in her eyes, she expresses her love for the people she has had the privilege to know. "This place wouldn't have been around all these years if it hadn't been for the people," she says. She has had customers drive from as far away as Nocona, Texas.
She wants to say Thank You to everyone who has made working at the Ryan Drug a pleasure.