Waurika's Little League Baseball began the season under new lights this past Monday evening.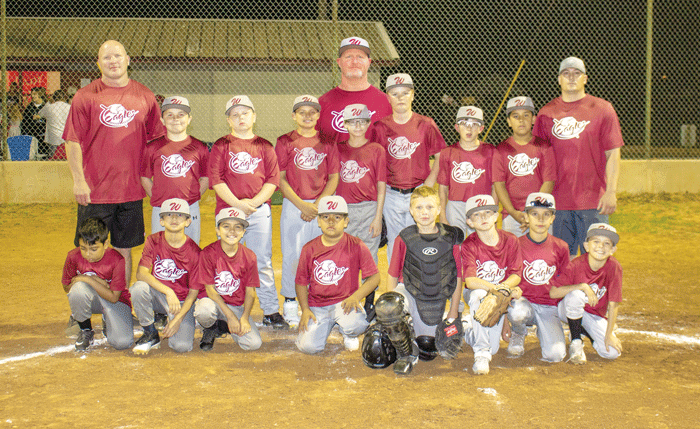 J.K. Townsend took time to recognize all of those who contributed in any way to the project.
However, before beginning he took time to recognize past presidents of the summer baseball league.
Some of those in attendance included: Coach Norman West – he set the record for the most years of service (20 years), Keith Salazar, Jim Bernard, Mary Bernard, Lori Wesberry, Steve Tyler, Joe Masoner, Sloan Lewis.
Townsend said that this has been an ongoing project.
There are 20 new lights that are powered by several thousand feet of wire.
The project cost over $10,000.00.
Cotton Electric's charitable foundation known as "Operation Roundup" provided the seed money to begin the project. They donated around $7000.00.
Jarrod Hooper of Cotton Electric located the poles the lights are mounted on. This saved over $4,000.00.
First Farmer's Bank also contributed financially.
Public Service Company also helped.
The Waurika Chamber of Commerce and others helped raise funds.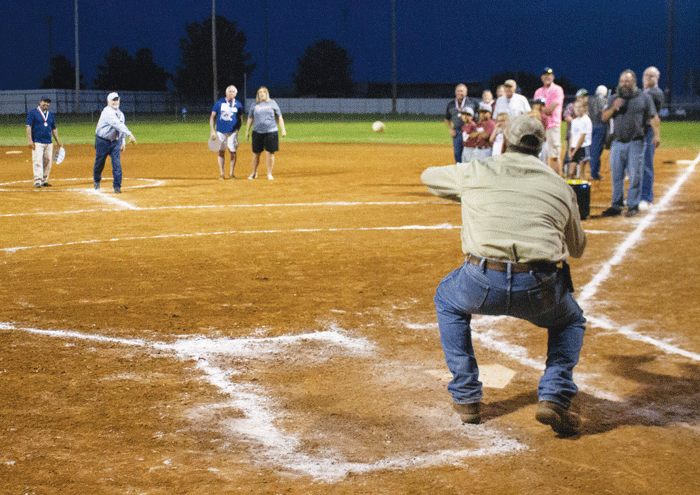 Carter Waid was mentioned, he sits on the board of Cotton Electric. He also had the honor of throwing out the ceremonial first pitch of the season. Brad Turner of Public Service Company of Oklahoma served as catcher for the pitch.
Mr. Roxy Terry was also instrumental in the project while he served as Superintendent of Waurika Public Schools.
Brad Turner helped install the lights.
Harold Winton lent a hand. It is said he worked several days on the project.
Ronnie Bohot said on the Cotton Electric Board at the time.
Bryce Bohot helped move the poles into place.
Brian Morris was credited with designing the electrical system.
Newton Plumbing and Electric donated all their labor.
Also mentioned was Waurika Schools Superintendent Cody Simmons.
Keith Salazar of the City of Waurika helped with the trencher for several days.
Tony Roberts also helped in various ways.
Samantha Stallcup also worked tirelessly on the project.
All of their help was deeply appreciated.
Each person was given a medal, presented by some of the players.
Signed metal baseball plaques were signed by each of the ball team members and presented to those organizations that made such generous contributions.