A focus on Insurance – Part 1 – Jefferson County Farm Bureau & Bartling Insurance
Ninth in a series of stories about Waurika businesses. #ShopLocalWaurika
JEFFERSON COUNTY FARM BUREAU
The Oklahoma Farm Bureau was organized in 1942 by Oklahoma farm and ranch families. Terri Sheffield has been the Agent for Jefferson County Farm Bureau for the past 4 ½ years. "Our agency has one focus and that's serving Oklahoma. Customer Service is our top priority. My team enjoys working hard for our customers and our company. We want to connect with our customers like neighbors, but offer the assurance that we are professionals looking out for their families," Terri stated.
Oklahoma Farm Bureau (OKFB) has certainly grown since 1942. In 1946, OKFB members and their families loaned a total of $35,000 to help capitalize Oklahoma Farm Bureau Mutual Casualty Company so they could extend the lines of insurance they offered. Shortly after that, members of OKFB worked to expand even more and added Farm Bureau Mutual Fire Insurance to their members. "In 1949, the two companies merged to form Oklahoma Farm Bureau Mutual Insurance Company," Terri explained.
In 1957 Life insurance was added to their offerings. "Today we offer insurance for Auto, Home, Farm & Ranch, Commercial, Life and Annuities," Terri stated. "A lot has changed in the world of insurance throughout the past 70 years, but one thing that has stayed the same is our unending commitment to serve Oklahomans."
While the OKFB's roots are in the farming community, they also provide coverages to everyday Oklahomans. "We provide coverage for teachers, oilfield workers, nurses, and clerks. We have insurance for all Oklahomans," Terri explained.
While agents may have changed through the years, Fay Foster has been the Jefferson County Farm Bureau Secretary for 18 years. Terri's son, Dylan Sheffield, is a sub-agent and is finishing up his last year at Midwestern State University majoring in Management Information Systems.
Terri grew up in Waurika and Ryan. Prior to insurance she worked 23 years in banking. "Insurance has been the most challenging career," Terri stated. When Terri was offered the agent position, the one thing she was apprehensive about was writing life insurance policies. It turns out that is one of her favorite products to offer. "I have actually seen the relief in a client's demeanor once we have completed an application. The relief in knowing they have taken another financial step in protecting their families," Terri said.
"I have enjoyed meeting new people and reconnecting with others through this position." She and her husband, Chuck, have been married 30 years. In addition to their son, Dylan, they have one daughter, Cherish Sheffield, who teaches kindergarten in Waurika and a daughter-in-law, Marisa. Dylan and Marisa recently had a son, Winston. Terri enjoys traveling and her new grandson, Winston.
"I am pleased to be a member of the Waurika Chamber," Terri commented. "I view the Chamber as a network of business minded individuals working together to promote and advocate on behalf of the business community." "What makes Waurika special is that its Chamber takes it to a higher level in promoting and supporting its community," Terri continued. "Whether it's a charitable or restoration project or promoting shopping local they just seem to push it to the next level which is excellent for the community and for Waurika businesses."
"I am extremely proud to represent Oklahoma Farm Bureau Mutual Insurance Company. The company truly promotes and believes in taking care of and protecting our people," Terri stated.
BARTLING INSURANCE
Bartling Insurance has been owned by Margie Ball since 2012. Bartling Insurance has locations in Waurika and Comanche.
Bartling Insurance, we can take care of all your insurance needs including, but not limited to, General Liability, Business Auto, Personal Auto, Homeowners, Farm, BOP, Bonds, Health Accident and Life insurance.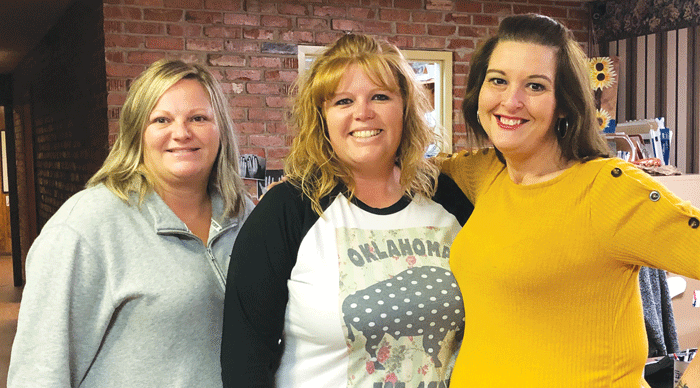 Margie began her insurance career in January of 1981 at the age of 22. Not long after, she joined the Bartling Insurance Agency team.
In September of 2012, Margie purchase Bartling Insurance Agency. Her love of insurance and her community is why she strives to be the best at what she does.
To Margie, insurance is much more than a job, it's her passion. She has instilled this same passion for customer service in her entire team.
"We strive to give every customer our utmost attention and support," according to Waurika Agent Christine Turner. "We try our best to make ourselves accessible whenever our customers need assistance, even if it's after hours. We want our customers to know they come first."
"We are like one big family and we want to make each of our customers feel that they are part of the family as well," Christina continued. "When you visit our Waurika office you will be greeted by either Christine, Rinda, Meagan or Candace. When you visit the Comanche office you will be greeted by Margie, Ida, Ann, Kelsey and Robin."
We feel it's important to participate in the Waurika Chamber of Commerce because of the support it gives our wonderful little town," Christine said. "Waurika Chamber promotes pride and solidarity of local businesses that aid in the growth of our community."
"Our business would not exist without customers like each of you. Thank you all for shopping local and supporting Bartling Insurance Agency. We are blessed to be part of such a wonderful community," Christine concluded.
A focus on insurance Part Two will run next week and will feature Farmer's Insurance
and the Insurance Place.