Week 4 of the Summer Reading Program wrapped up on June 29th. Kim Clampitt setup activities for the week.  
On Monday, June 25th, after Drop Everything And Read, the kids began working on making drums. They started by painting cans. The kids also started decorating paper plates to make elephants.  Thanks to the Hastings Baptist Church for providing and serving lunch today. They brought hot dogs, strawberries, grapes, chips, cookies, and lemonade.
On Tuesday, after DEAR time, the kids finished making their drums by putting balloons over their painted cans to make the drum head. They finished up their elephants attaching party horns to make the elephant's trunk.  Thanks to Patricia McGriff for making sandwiches for lunch. Along with sandwiches the kids had chips, grapes, and fruit cups
On Wednesday,  after DEAR time, the kids talked about insects. For their craft, they made 'buzzing bees' with index cards, craft sticks, rubber bands and string.  After making their 'buzzing bees', the kids headed over to the park to try them out. The 'bees' buzz when the kids swing them around by the string. Thanks to Kristie Gaines and her team at the Waurika QuikMart for providing pizza for lunch. Thanks to the Waurika Lions Club for serving.
On Thursday, after DEAR time, the kids learned about butterflies.  Thanks to Georgia Spoonemore for coming and teaching the kids about how butterflies grow and how to identify species like Monarchs.  Thanks to Jeffco Helping Hands Food Pantry for providing lunch. Thanks to Carol Prewitt and Jessica Coody with the Waurika Alumni Association for serving.
Friday, after DEAR time, the kids learned about bees. Thanks to Dannie and Janie Ramming for telling the children how bees are raised, what bees do, and how they behave. Dannie and Janie also brought bees for the kids to look at.  After learning about bees, it was time for lunch. Thanks to Gayle Austin for grilling burgers. Thanks to Carol Prewitt for serving. Thanks to Kimberly Morris-Kirkland and the Waurika 4H for cleaning up.
Thanks to Kim Clampitt for coordinating the week. Thanks to Karlee Berthiaume for all of her assistance. Thanks to Brittney Helterbran for all of her help. Thanks to Destiny Foster, Abby Taylor, and Presley Parker for volunteering this summer.
Thanks to all of the people in our community that support this wonderful program.
It's not too late to sign your child up! Programming runs each weekday, June 4 – July 27 – with the exception of the July 4 holiday. Reading and activities will be from 10:00 a.m. – 11:30 a.m. with lunch served at 11:30 a.m. Children attending the Summer Reading Program must be picked up by their parent/guardian by noon each day.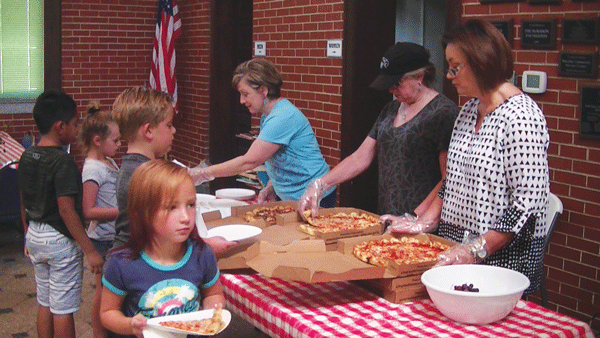 Children must be registered to attend. In addition to registration, age requirements include children entering first grade in the fall through those entering fifth grade in the fall. Older school-aged children are welcome to participate as helpers. For information or registration forms, visit the Waurika Public Library or call 580.228.3274.
The Summer Reading Program is free to attend. The public library, community organizations and individuals care about your children. Together we raised funds to offer daily educational programs and week-day lunches to keep your children's minds and bodies fed this summer. Whether keeping track of the amount of time your children spend reading or the number of books they've read this summer, children who attend the Summer Reading Program keep their minds active and enter the new school year ready to succeed.
For information about events, activities and more, visit our Facebook group at https://www.facebook.com/groups/WaurikaPublicLibrary/