It has been said that the journey of a thousand miles begins with the first step. It's uncertain how many miles Kenny and Donna Bachand have journeyed in their lifetime, but they have been many and began in 1972 when they joined together in marriage with a common love for horses and the cowboy lifestyle. 
Part of their journey took place this past August 13th on an excursion to Wyoming and Dakota to participate in a wagon train expedition that covered nearly 85 miles from Four Corners, Wyoming to Deadwood, South Dakota. This wagon train and trail ride are associated with the Days of 76 Rodeo in Deadwood. Members of the Bachand family have been faithful participants in the rodeo since it's inception 96 years ago. This year, Kenny was named Teamster of the Year.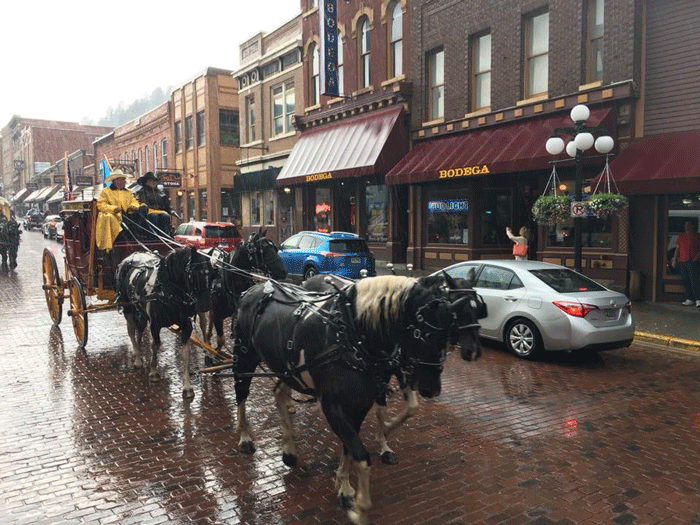 This recent wagon train took the same path of the Cheyenne to Deadwood stage route as well as portions of the "historic 1874 Custer Black Hills Expedition and Custer's campsites. 
Donna said that years ago a trip from Medora to Deadwood by coach would only take about three days. The trip that they took with their coach took about 16 because "we went a whole lot slower." 
Kenny explained that during the days of stagecoach transportation that they would travel about 15 miles to a location where they could change out horses because the fast pace wore the teams out. 
Donna says they always enjoy the chance to participate in the commemorative wagon train expeditions because it gives them a chance to catch up with old friends. They also take Kenny's younger sister along. Once their daughter took the trip with them. She took a video of the whole experience. 
The Bachand's were privileged to lead the recent expedition with their well-known stagecoach, which was once owned by Montie Montana, a famous actor, a trick roper and frequent feature of the Rose Bowl Parade. He was inducted into the Pro-Rodeo Hall of Fame in 1994. They are proud to own such an important piece of western history.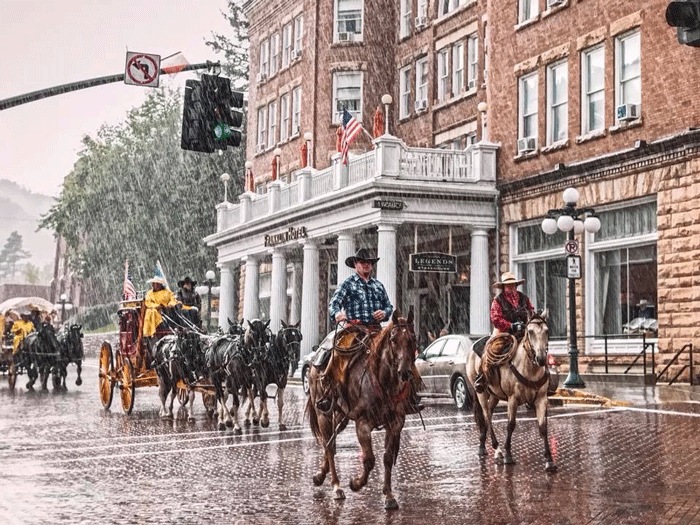 They purchased the coach from Doug Hansen, owner of Hansen Wheel and Wagon in South Dakota. Although Hansen builds coaches using the same patterns used by Abbot-Downing (the company that built the famed Wells Fargo Stagecoaches), he did not build the coach the Bachands now own. Those interested in purchasing a Stagecoach from Hansen Wheel and Wagon will need to save their loose change. The price of a new coach can set you back as much as $110,000.00.
It's a bit ironic, Montie Montana pulled the stagecoach with black and white paint horses, the same breed of horses the Bachands use to pull that same coach. The names of the four paints they used on the recent trip to the Black Hills were Little Ace, Rachel, Bubbles, and Bunny. 
Besides the stagecoach, they also own an oak chuckwagon that had been built specifically for the Enid, Oklahoma 100 Year Celebration. The chuckwagon carried former president George H.W. Bush in Enid parade. 
Another dignitary has recently ridden in the chuckwagon. Not long ago Kenny was in Beaver Lumber when Junior Robertson spotted him and told him, "You're going to carry me up the hill." He was referring to the Waurika Cemetery. The Bachands say they were honored to use the wagon as the hearse for the former president of the American Paint Horse Association. It was another mile in their journey creating memories they will always cherish.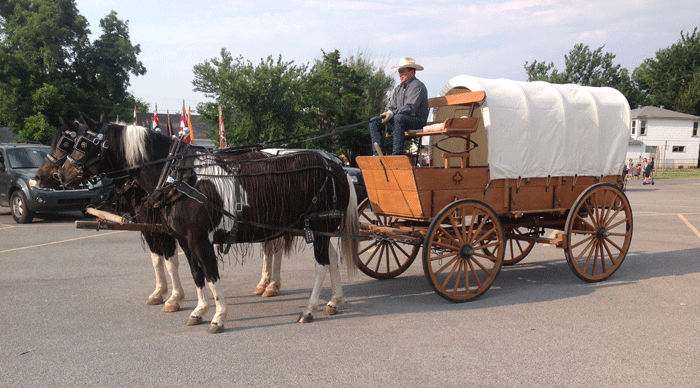 Kenny and Donna Bachand were both raised on ranches in South Dakota. Neither of them has ever lived in town. Country life is all they have ever known. 
Horses have also always been a part of their lives. While growing up, Donna made the two-mile trip to school on her own horse. 
When they married they purchased a ranch in the Beautiful Black Hills. Together they raised horses and cattle while Kenny worked the rodeo circuit as a rodeo clown in his spare time. The year they married, the Bachands participated in the Days of 76 Rodeo wagon train ride dressed in period clothing as a bride and groom.  
Because the selenium-rich soil on their ranch, which is not healthy for horses or cattle, the Bachands set out in search of a new place. They found some land for lease near Duncan and thus began the next leg of their journey. Thus after 13 years of marriage, they found themselves in southern Oklahoma.
In 1987 they found some property for sale in Cotton County. They purchased the place from Howard Gover and have been there ever since. 
The Bachands have two children. Their son Dennis, who has his own ranch near Waurika works with Kenny harvesting wheat, bailing hay and raising cattle. Their daughter Jodie Janssen lives in Amber, Oklahoma with her husband Ben where they both work for Cimmaron Trailers. He is the plant manager and she handles their public relations. 
Kenny and Donna have six grandchildren. Their family has grown up in the traditional western lifestyle. It's something of a tradition in their family and one they intend to pass on. 
When asked why they enjoy traveling with their stagecoach and chuck wagon Donna simply answers, "We are trying to keep history alive." Keeping history alive has been a lifelong journey, but it is safe to say that for the Bachands it has been worth the trip.