The Waurika City Council held it's September meeting on Monday the 10th at 6:00 pm at Waurika City Hall. 
The minutes from the August 13, 2018 Meeting were approved. 
Members of the City Commission  approved the Capital Improvement Plant (CIP) for the Fiscal Year 2018-19. The plan simply states what some of the cities future needs may be. 
Waurika will be applying for a REAP Grant for up to $45,000.00 to enable them to work on the former DOC project building and to advertise for bids to install wiring and HVAC (Phase II), with the right to accept bids for all or partial work. 
Susan Howard has been appointed by the Governor to head up a study about children. 
The "Estimate of Needs" for the Fiscal Year 2018-19 was approved. 
Ordinance No. 09102018-02 was approved. It amends Chapter 2, Alcoholic Beverages, in its entirety to conform with updated state laws; providing for effective date of October 1, 2018; declaring repealer; providing for sever ability thereof; and declaring an emergency. 
Waurika's City Commissioners also approved the adoption of Ordinance No. 09102018-03, amending the Code of Ordinances of the City of Waurika by adding a new Chapter 21, pertaining to Medical Marijuana; providing for legislative intent and purpose; adopting definitions; adopting regulations of the Oklahoma State Department of Health Title 310, Chapter 681 pertaining to medical Marijuana; requiring commercial marijuana permits; establishing regulations pertaining to operations, locations, facilities and permittee restrictions; establishing  regulations for marijuana cultivation; regulating advertisements; providing procedures for revocation of permits; providing for prohibited acts; providing for penalties; declaring repealer; providing for savings; providing for sever ability thereof; and declaring an emergency. 
Departmental Reports:
Brad Scott, acting city manager, reported that Waurika Police Chief Gary Whittington had submitted his resignation. He also announced that Justin Winslett is the new Police Chief. 
Michael Bryant reported that he had posted on four different properties and then four more two weeks later for Code Enforcement reasons. One of the properties has been improved (corner of 8th and D Street). He also reported that citizens are beginning to clean up their own properties. Slowly but surely properties are coming into compliance with the city codes. 
It was suggested that a community meeting be held to remind citizens of the city ordinances when it comes to maintaining property within the city limits. 
Financial claims in the amount of $21,045.88 were approved.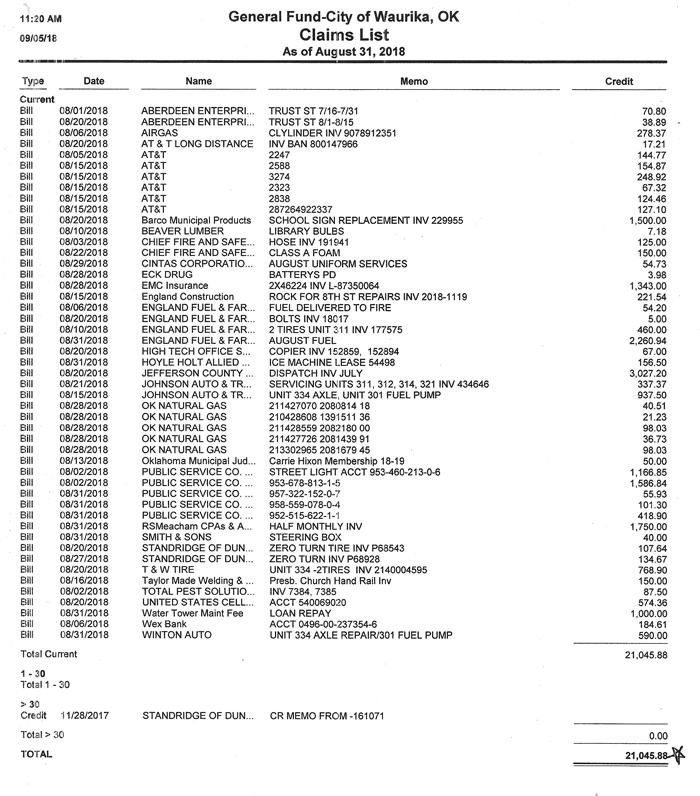 The financial report from RS Meacham was approved. 
According to the report there was an increase in cash of about $9,400.00 over last month. Unrestricted Cash, however, was a little down. Sales and Use tax was up by about 5 percent. For instance, the August report for this fiscal year was $38,606.00. The sales and use tax receipts for August from the previous year was only $34,515.00.