On Tuesday the Waurika seventh grade and junior high track squads traveled to Wynnewood to compete in a track meet.
No team scores were kept in the meet that featured four divisions.
Leading the way for the junior high girls' team was Libi Simmons who captured gold medals in the 100 meter hurdles and the high jump.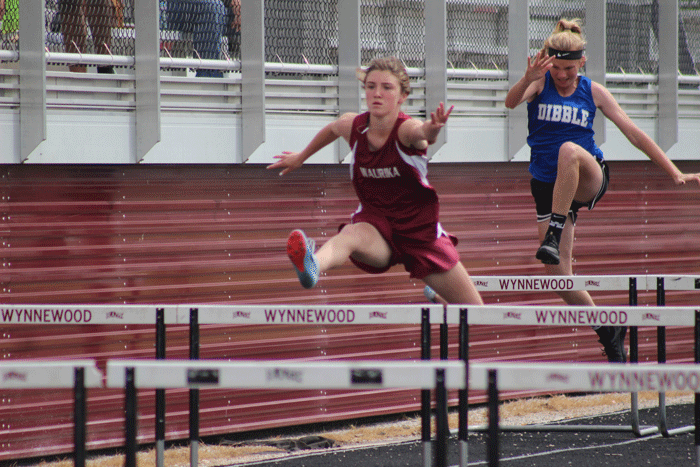 Kynlee Waters placed in two events for the Lady Eagles. She was fourth in the 300 meter hurdles and fifth in the 100 meter hurdles. Corley Coffin captured fifth place in the 300 hurdle events.
Aubree Showalter also placed in two individual races. She was fourth in both the 800 meters and the 1,600 meters.
Bailey Romero earned third place in the long jump for the lady Eagles.
In the weight events, Mackinze Taylor was fourth and Alana Lewis was fifth in the discus and Cassidie Berry finished sixth in the shot put.
Three relay squads placed for the Lady Eagles during the meeting.
The 1,600 meter relay team of Waters, Simmons, Trish Julian and Showalter earned fourth place.
In the 400 meter relay the squad of Simmons, Tracy Ballard, Coffin and Romero came in fifth place.
The 800 meter relay team of Coffin, Ballard, Faith Hill and Romero turned in a sixth place finish for the Lady Eagles.
Trent Arellano was the top performer for the junior high boys. He won the gold medal in the long jump.
Matt Arriola placed in two events. He was second in the long jump and fourth in the high jump.
Treyton Torrez also placed in the high jump earning a silver medal.
The Waurika seventh grade teams also competed in the meet and the results are listed below:
7th Grade Girls
1,600 Meter Relay: 6. Waurika (Niecsa Camarillo, Destiny Foster, Reese Reynolds, Sadie Smith)
7th Grade Boys
Long Jump: 3. Carson Williams
High Jump: 3. Carson Williams
100 Meters: 4. Carson Williams