Waurika and Ryan recently held their annual FCCLA Banquets.
Waurika FCCLA Banquet
The Annual FCCLA Awards Banquet was held on April 17.  This year's banquet theme was "It's a Shore Thing" and followed a nautical theme.  Tables were decorated with a variety of nautical items, a lighthouse mural and nautical flags were hung, and a "Seas the Day" bulletin board completed the scene. Following a meal with fish donated by Bill's Catfish, members and their guests enjoyed a slide show which highlighted activities carried out by FCCLA this year.  Adviser Suzy Bruner presented awards to members and Senior Brooklyn Sampley presented the FCCLA "Salutes" Award to Principal Nat Lunn as a show of thanks for the support he has shown the group.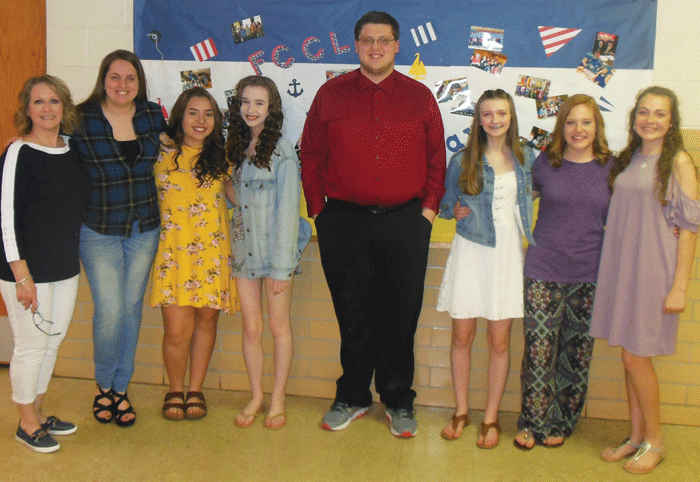 Awards were given to:
2017-18 Officers  
Pres. – Nicole Burton
VP of Service-Hope Cummings
VP of Fundraising-Brooklyn Sampley
Treasurer- Brooklyn Barnes
Sec. – Braden Woods
Reporter – Hannah Owens
Historian – Gabi Torrez
FCCLA Competitive Events 
Mallory Adkins – Creed Speaking, 2nd place district
Kaytlyn Williams – New member Facts Test, 2nd place district
Hope Cummings and Brooklyn Barnes – Illustrated Talk over "Mean Girls", 2nd place district
Brooklyn Sampley – Focus on Children over nutrition, 3rd place regionals
Top Salesman, Tom Watt
1st year member Trinity Barnes sold $306.50. 
Top Salesman, Cookie Dough
Jr. Hayden Brown sold $208.  
Top Five Members
The Top Five Member award is decided by the participation points that are kept throughout the year.  
Mallory Adkins – 1st yr member
Trinity Barnes-1st yr member
Landry Forsyth – 1st year member
Grace Hill -1st yr member
Kaytlyn Williams – 1st year member
 Service Award
The FCCLA Service Award is presented to a member who has earned more points by participating in service projects than any other member.  
8th grader Kaytlyn Williams
Senior Recognition  
Kamie Gilmore (1st yr member)
Reagan McKelroy (1st yr member)
Brooklyn Sampley (3rd yr member)
Braden Woods (5 yr member)
Ryan FCCLA Banquet
Ryan elected their new officers for 2018-2019: Laken DeBoard, Holland Carter, Haley Poage, Keylee Switzer, Juliett Spangler, Tawny Vanover, Lilly York, and Emilee Martin
They also recognized fundraisers top sellers: Haley Poage, Emilee Lowry, & Liberti Sewell