There were two big stories to come out of the May City Commissioner meeting for the city of Waurika.
The first was the hiring of former Jefferson County Sheriff Michael Bryant. He will bring administrative and law enforcement experience to the position which will be a plus as one of his duties will be city code enforcement.
Bryant is the longest serving sheriff in Jefferson County's history. When he first took office as sheriff the department had just enough money to last 30 days and yet there were 90 days left in the fiscal year. When he left the department there was over $500,000.00 in the accounts.
He will begin his duties as city clerk on June 1st.
The other story of interest from Monday's meeting was the recognition by the Oklahoma Water Resource Board for the city's loan consolidation.
Charles de Coune, Leading Manager of the Financial Assistance Division of OWRB, presented the City Commissioners with a commemorative check symbolizing the $975,000.00 loan consolidation.
The loan will save the city 10 years of payments and over $240,000.00.
Other business included the hiring of Jeffrey Overton in the city's Water Department. Scott spoke highly of him and said he is a willing and dedicated worker who will be an asset to the department. He is also willing to work in other departments when needed.
The city also began the process of closing an alley next to the Waurika Fire Department.
Purchase orders and claims for the City of Waurika was paid in the amount of $21,726.81.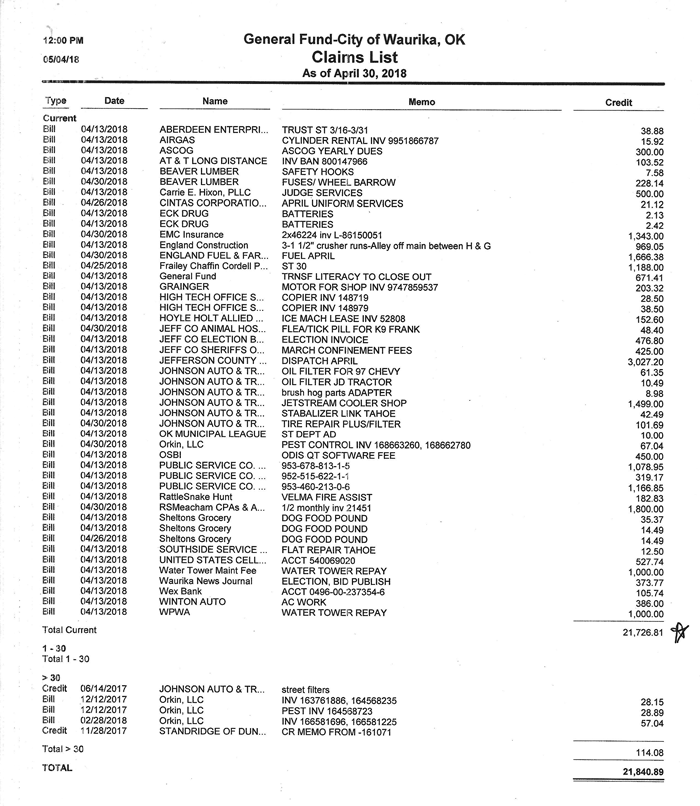 The city will begin advising property owners near Lot 1 Block 26 of the Sycamore Addition in Waurika that Bobby Taylor is wanting to move a mobile home on the the premises.
The procedure will also be followed to notify property owners near 407 E. Iowa, Lots 15-18 of the Harper Addition in Waurika that Mary Harvey and Tyler Bowen want to move a manufactured home on the premises of 407 E. Iowa.
After the business for the city of Waurika was completed the commissioners entered the Waurika Public Works Authority meeting.
The council opened the 1 bid for the Waurika Golf Course from Michael Delaney. The commissioners voted to keep the bidding open for another 30 days. Delaney understood and said he just wants to keep the golf course open.
The commissioners approved the purchase of 12 new membranes for the Water Treatment Facility in the amount of $10,800.00. That's around $300 less per membrane than they spent on a previous purchase.
Last but not least, the commissioners approved $39,456.54 in purchase orders and claims.