On Friday, Oct. 11, the Waurika Sorosis Club commemorated 100 years with a celebration attended by 50 women including current club members, past presidents, visitors from the Owl Study Club of Duncan and state officers of GFWC-Oklahoma.  Waurika Mayor, Gary Duncan, and City Manager Brad Scott, presented the club with a Proclamation from the City of Waurika making last week GFWC Waurika Sorosis Club Week in Waurika GFWC-OK State President, Joan Maddox, presented a certification from GFWC Oklahoma and a congratulations letter from GFWC International President, Mary Ellen Brock.  The event was held at the First United Methodist Church in Waurika and was co-chaired by past presidents, Rinda Griffin and Monica Bartling. 
The group was entertained by stories from Past Presidents who talked about their favorite memories from their administration. Past Presidents who attended were: Louise West, Glenda Countiss, Pat Scott, Linda Chapman, Becky Gerken, Rinda Griffin, Norma Skelton, Elizabeth Scott, Monica Bartling, Melicia McFadden, MayNell Walker and America Dudley. Past President, Ann Hodges, sent a letter recapping her favorite memories of Club since she could not attend.
Club member, Nell Largent, gave a brief talk on what joining Club as a young wife meant to her. She talked about how formal the club meetings used to be and how the women of club served as her mentors and how much she valued their advice and wisdom.
June Griffin was honored for her 63 years of club membership by receiving the Chief Executive Officer and Trusted Advisor Award. Carol Boren Radford was presented a Visionary Award for serving as Club Vice President and Chairing the original Sorosis Park Committee. The club also thanked her for continuing to support the current project which will enhance the original vision.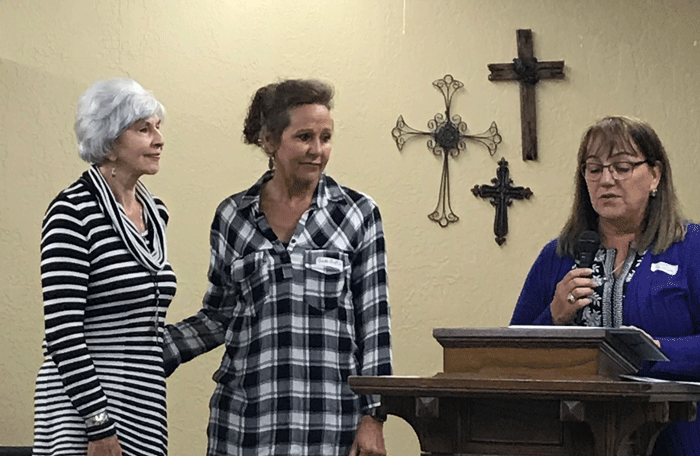 A short history of the club was read as part of the Proclamation.
One Hundred and Eight years ago, a group of women joined together as the Waurika Sorosis Club to build, fund and support a library for the City of Waurika. After enough books were collected a free library was opened in the home of the club president. In 1912 the collection was moved to City Hall. In approximately 1914, according to the Oklahoma Historical Society, a nice little bungalow was erected on "D" Street which housed 3,000 books. Mrs. Ora Taylor was in charge of the library.
One hundred years ago, the Waurika Sorosis Club joined the General Federation of Women's Clubs (GFWC) and have been a member of that organization for 100 years. The General Federation of Women's Clubs (GFWC), founded in 1890, is a federation of over 3,000 women's clubs in the United States which promote civic improvements through volunteer service.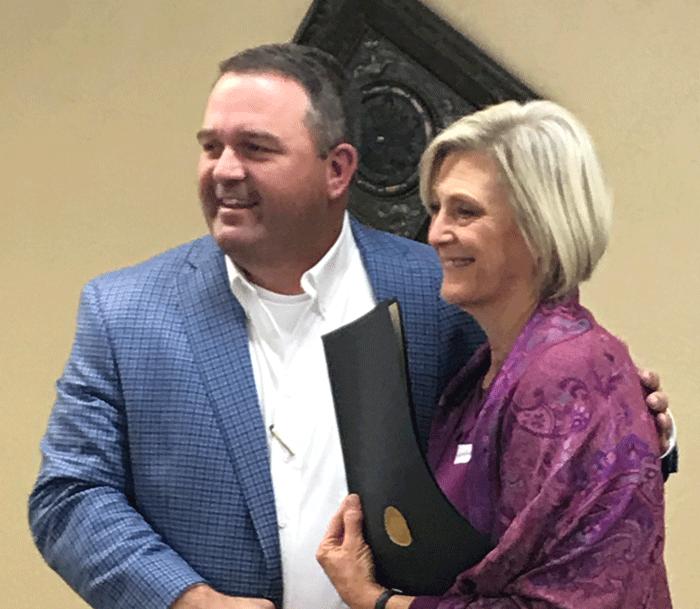 Living the volunteer spirit is in the forefront of everything the Sorosis Club has done for Waurika for the past 100 years and continues today. For example, the Waurika Sorosis Club was the driving force behind the original building of Sorosis Park at "D" and Main Streets in Waurika; has participated in various projects to bring Domestic Violence Awareness to our community including starting the Jefferson County Chapter of "Girls on the Run;" has won International Awards from GFWC for its Summer Reading/Feeding program for children; and, helped GFWC-OK win the International Award for Conservation in our Region for its Wildflower planting and seed harvesting project.