(l-r) Jon Waid, Minkah Fitzpatrick (this year's Jim Thorpe award winner), and Richard Thorpe – son of legendary athlete Jim Thorpe.
Jon Waid and Richard Thorpe attend this year's Jim Thorpe award ceremony in Oklahoma City Tuesday evening.
Photo by Curtis L. Plant
 Oklahoma City – Richard Thorpe, Jon Waid, Curtis and Kimberly Plant traveled to Oklahoma City to take part of the annual Paycom Jim Thorpe Award Ceremony.
Before the ceremony began, Jon Waid had a chance to visit with this year's winner Minkah Fitzpatrick, defensive back for the Univeristy of Alabama.
During their visit Fitzpatrick expressed that he was glad he didn't have to face Oklahoma University's potent offense in the title game.
During the ceremony, Oklahoma's All State team was recognized by the Daily Oklahoman.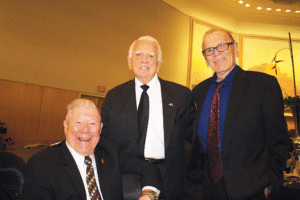 Former Governor George Nigh recognized Richard Thorpe, of Waurika and his brother and thanked them for keeping the memory of their father alive.
Abe Lemons, a respected coach who was born in Ryan, Oklahoma was mentioned during the ceremony.
The Jim Thorpe Award has been given to outstanding defensive backs since 1986.